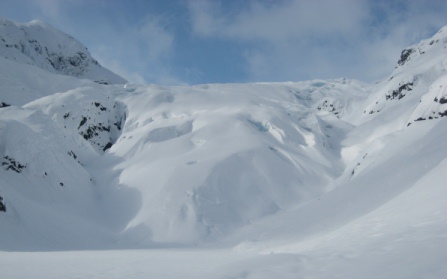 NPS / Travis Fulton
Once the road to Exit Glacier is snow-covered and closed to cars, it is accessible by cross-country skis, snowmobile, or dog sled. Winter recreation generally starts in early November and the snow can last into May. This can vary greatly from season to season, so be sure to check on current conditions before starting out.
Winter is one of the best times of year to spot moose at Exit Glacier. Enjoy viewing them from a distance, since they are likely to be stressed in this season of food scarcity.
Facilities
A warming hut with firewood and benches is available for day use when visiting the Exit Glacier Area. Vault or pit toilets are also available, located just off the parking area.
No
potable water is available, so all drinking water should be brought in or properly treated before drinking.
Public Use Cabin
The
Willow Public Use Cabin
can be rented by the night, providing visitors with a once-in-a-lifetime winter backcountry experience.
Snowmobiles
Snowmobiles are allowed in the park once there is at least 18 inches of snow with a solid base. The Harding Icefield has adequate snow cover year-round, but the rest of the park is generally open to snowmobile use from November through April. Check the
current conditions
as you plan your trip.
The use of snowmobiles is prohibited within the Exit Glacier Developed Area,
except
on the road to Exit Glacier, in the parking areas, and on a designated route through the Exit Glacier Campground to Exit Creek, as shown on the
Exit Glacier Developed Area - Winter Map
.
Snow Coach
A commercial Snow Coach, operated by Adventure Sixty North, provides scenic tours and guided snowshoe walks, and passengers can be dropped off to enjoy winter activities on their own. The park has authorized four round-trips per day, and no commercial services Tuesday through Thursday after 1 p.m.

Costs and additional information regarding the service can be found at Adventure Sixty North's website for Winter Tours and Activities.
Ice Climbing
Technical ice climbing is permitted on the glacier's terminus from November through March. The rest of the year, climbers must be at least ½ mile above the terminus. Ice climbing opportunities are very limited due to unstable ice conditions.
Booking a trip with an experienced mountaineering guide company is a great idea. It saves on the expense of costly mountaineering gear, and gives added security and safety to the trip.