Boat Tours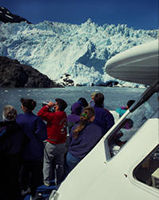 NPS / Jim Pfeiffenberger
Boat tours depart Seward's small boat harbor daily in the summer months. It's a good idea to make reservations in advance. Several companies provide a variety of tour options, schedules, and amenities. Full-day tours that venture out to the park's tidewater glaciers are available as well as half-day tours that stay in the more protected waters of Resurrection Bay while giving you a taste of the park's wildlife and scenery.
Park Rangers provide narration on many of the cruises offered by Major Marine Tours and present programs daily at Kenai Fjords Tours' day lodge located on Fox Island.
Smaller charter boats are also available. During the shoulder seasons and winter months, some companies offer tours traveling the shorter routes in Resurrection Bay. Contact the tour companies or visit the Seward Chamber of Commerce for more information.
Tips for an enjoyable trip:

Plan to dress in warm layers that include a windproof and waterproof outer shell, a warm hat and gloves or mittens. The best place to enjoy views of wildlife and scenery is out on deck, but the winds can be surprisingly cold, even on sunny days.

A broad-brimmed rain hat is also recommended as well as sunglasses, sunscreen, camera, film and binoculars.

Many tour companies provide meals and/or snacks, but if they're not included with your tour, be sure to bring some food.

Did You Know?

The Hoary Marmot is the largest member of the ground squirrels. These guys hibernate half or more of their life away. They have very thick fur and a substantial fat layer that protects them from the cold. You are not as likely to see them on hot days as they hide in the shade to keep cool.