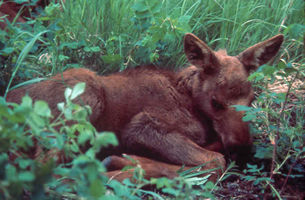 NPS Photo
Watch For Signs that the Moose is Upset
If its ears are laid back and hackles are up, it is likely to charge. Most of the time, when a moose charges it is a 'bluff', or warning for you to get back – a warning you should take very seriously! Once a moose bluff charges it is already agitated. If possible, get behind something solid (like a tree or a car).
Unlike with bears, it is okay to run from a moose. They usually won't chase you and if they do, it's unlikely that they'll chase you very far.
If a moose knocks you down, curl up in a ball and protect your head with your arms and keep still. Fighting back will only convince the moose that you may still be a threat. Only move once the moose has backed off to a safe distance or it may renew its attack.