Snow Mobile Regulations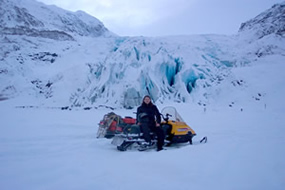 NPS Photo
The use of snowmobiles is currently allowed within the park, but is subject to various rules and regulations. See 36 CFR 2.18(a), (b), (d), and (e), 43 CFR 36.11(a)(2)(c), and state law.
Snowmobile use is only permitted once there is adequate snow with sufficient depth and density to protect underlying vegetation, soils, and wildlife habitat. In this park, adequate snow cover is generally defined as at least 18 inches of snow with a solid base. Check current
conditions
before heading out.
All State Laws regarding snowmobile use apply within the park. These include, but are not limited to those found in Alaska Statutes Title 28, Chapter 39 and the Alaska Administrative Code Sections 13 AAC 04.400 through 13 AAC 04.420.
In addition to State law, the following National Park Service regulations also apply to the use of snowmobiles within the park:
The use of snowmachines is prohibited within the Exit Glacier Developed Area, except (a) On Herman Leirer Road; (b) In parking areas; (c) On a designated route through the Exit Glacier campground to Exit Creek; or (d) For NPS administrative activities. The Exit Glacier Developed Area (EGDA) is defined as 1) from the park boundary to Exit Glacier Campground Entrance Road, all areas within 150 meters of the centerline of the Exit Glacier Road; 2) from Exit Glacier Campground Entrance Road to the end of the main paved trail, all park areas within 300 meters of any paved surface, excluding Exit Creek; or 3) all park areas within 300 meter of the terminus of Exit Glacier, excluding Exit Creek. A map showing these boundaries of the EGDA is available at Kenai Fjords National Park Headquarters, 500 Adams Street, Suite 103, Seward, Alaska.
Snowmobiles may not make excessive noise. This is generally defined as a maximum decibel level of 78 at or near full throttle measured at 50 feet using an A weighted scale. (36 CFR 2.18 (d)(1))
A white headlight and red taillight are required from ½ hour after sunset to ½ hour before sunrise or when persons or objects are not clearly visible at 500 feet. (36 CFR 2.18 (d)(2))
Operating a snowmobile without brakes in good working order is prohibited. (36 CFR 2.18 (d)(3))
A maximum speed limit of 45 mph applies throughout the park, unless otherwise posted. Racing is prohibited. (36 CFR 2.18 (d)(4))
Riders under age 12 must be accompanied on the same machine by a responsible person 21 years of age or older. (36 CFR 2.18 (e)(2))
Riders under age 16 must be supervised by a responsible person 21 years of age or older within sight of the rider. Each rider under 16 must be supervised by a different person over 21. (36 CFR 2.18 (e)(1), (36 CFR 2.18 (e)(3))
Towing of persons on skis, sleds, or other sliding devices is prohibited unless in a sled designed to be towed by a snowmobile and joined to the snowmobile with a rigid hitching mechanism. (36 CFR 2.19(b)).
All accidents involving property damage, injury, or death must be reported to the National Park Service within 24 hours. Snowmobiles involved in such an accident shall not be moved until notification is made unless unsafe or impractical. Notifying the NPS of the accident does not relieve the operator of notifying state authorities as required. (36 CFR 2.18(a), 4.4)
All posted traffic control devices apply to snowmobiles just as they do to cars. (36 CFR 2.18(a), 4.12)
Operating a snowmobile while in possession of an open container or under the influence of alcohol is prohibited. (36 CFR 4.23)(36 CFR 2.18(a), 4.14)
Snowmobile operators must yield the right of way to pedestrians, pack and saddle animals, and vehicles drawn by animals (e.g. dog teams pulling a sled). (36 CFR 2.18 (a), 4.20)
Unsafe operation is prohibited. This includes failure to use due care, operating at a speed greater than reasonable and prudent, failing to maintain that degree of control necessary to avoid danger to persons, property, or wildlife, or riding on a portion of the snowmobile not designed for passengers. (36 CFR 2.18 (a), 4.22(b)
Questions about snowmobile use should be addressed to the
Park Superintendent
.
Did You Know?

"Killer whales" or orcas are actually quite friendly and often inquisitive about humans. In fact, the group of "resident killer whales" pictured here feeds entirely on fish. Only "transient killer whales" eat marine mammals. No wild killer whale has ever hurt a human being.