Willow Winter Public Use Cabin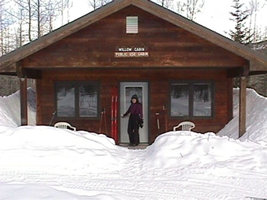 NPS Photo
Willow Cabin is available after the road to Exit Glacier is closed due to snow in the fall (usually in early November) through the first week in April.
Getting there: Willow Cabin can be reached by snowmobile (once there are 18 inches of packed snow on the road), cross-country skis, snowshoes or dogsled. The road to Exit Glacier is usually closed at the Box Canyon Gate, 1.5 miles off the Seward Highway. From there it is approximately 7 miles to the cabin, but you may have a shorter ski if the road is still open to the Forest Service or National Park Service boundary. Be sure to park at the turnoff before the gate. Keep the gate clear for access by mushers and emergency vehicles.
Reservations: Reservations are required and can be made in person at Park Headquarters or by calling 907-422-0500. Stays are limited to three nights.
Cost: Currently, it is $35 per night. The National Park Service is currently planning on raising it to $50 per night, but the increase will not take effect until the 2014-15 winter season.
Cancellation Policy: Reservations must be cancelled at least 10 days in advance to receive a refund or credit, unless the cabin is inaccessible due to weather. Refunds are only available for reservations made using an approved credit card. Credits may be applied to the current season only on a space available basis.
Facilities: Willow Cabin is equipped with propane heat, as well as propane fueled stove, oven, refrigerator, and lights. The cabin is fully furnished with table and chairs, a couch and bunk beds with mattresses. It has two bedrooms and sleeps up to four people. Basic cooking utensils, pots and pans, and flatware are provided. A pit toilet is located near the cabin. There is no running water - visitors need to melt snow or carry in drinking water.


Did You Know?

With 570,374 square miles, Alaska is twice the size of Texas and 1/5 the size of the rest of the United States. It stretches 2,400 miles east-to-west and 1,420 miles north-to-south. Its 6,640-mile coastline is 50 percent longer than the combined east and west coasts of the United States.