Swimming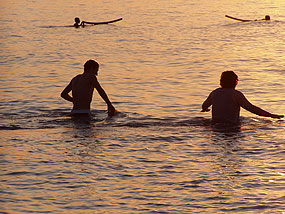 NPS image collection
Swimming is one of the most popular summer activities at Indiana Dunes National Lakeshore. You can swim, lay on the beach, and find restrooms and parking at:
Dunbar Access Point
Porter Access Point
The only access point with lifeguards and showers is West Beach where there is a fee from Memorial Day through Labor Day.
From Memorial Day through Labor Day leashed pets are permitted on beaches east of the State Park boundary in the national lakeshore up to Central Avenue Access Point.
Beach parking fills up very quickly on summer weekends and holidays. The eastern parking lots: Central Avenue, Lakeview, Dunbar, Kemil fill up as early as mid-morning. It's best to arrive early or wait until late afternoon when parking spots become available as visitors depart.
Safety Tips
Use caution when swimming in Lake Michigan. The bottom is uneven with holes and deep drop-offs. These inshore holes are very dangerous to small children and non-swimmers.
Parents and guardians MUST keep a constant watch.
Stay out of the water when there are high, breaking waves and rip currents.
If being pulled out into deeper water by a forceful, unexpected rip current, DO NOT PANIC. Even a strong swimmer can drown!
Follow the rip current or try to swim out of it by swimming parallel to shore until the pull outward into deeper water subsides.
Rip currents are caused by a sudden break in an offshore sandbar that releases water rapidly back into the lake. Rip current conditions often occur when the wind is out of the north. These dangerous currents can also occur in waters adjacent to seawalls, artificial reefs, and erosion control structures; stay clear of these areas. Obey posted and verbal rip current warnings.