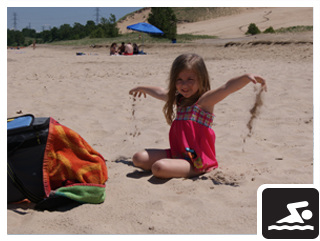 Zach DeYoung
Fifteen miles of sandy beach along the southern shore of Lake Michigan offers a wide variety of recreational activities. Whether it's enjoying a summer sunset stroll or marveling at the arctic beauty of Lake Michigan's shelf ice, you can enjoy the beach in all seasons.
There are eight beach access points along the shoreline of the national lakeshore. Most parking lots are open from 7:00 a.m. to 30 minutes past sunset. One beach parking lot, Lake View, is open until 11:00 p.m. Hikers and bicyclists can enter at 6:00 a.m.
All beach parking is free with the exception of a $6.00 per vehicle (or $30.00 per bus) fee at West Beach from Memorial Day weekend through Labor Day weekend. The largest parking lot is West Beach and it rarely fills.
Every beach parking lot has restrooms. Showers are available at West Beach. Gas grills are permitted at all picnic shelters.
All parking lots are located adjacent to the beach with a few exceptions. The Mt. Baldy parking lot connects via a one-half mile mildly strenuous beach trail and the Cowles Bog parking lot to the beach requires a five mile round trip hike. The one mile Dune Ridge trail off the Kemil Road Access Point showcases a variety of dunes habitats, but does not directly connect with the beach. Visitors must use the walkway alongside Kemil Road for one quarter mile to arrive lakeside. Parking at the end of Central Avenue is only a block away from the beach where the tall dunes saddle up closely to the lake. The new Portage Lakefront and Riverwalk parking is also only block from the water's edge with picnic tables overlooking the beach and Chicago skyline. Accessible parking lots include West Beach, Lakeview, and Dunbar.
Prohibited Activities on the beach:
Fires on the beach and charcoal fires anywhere else but in the grills at West Beach
Alcohol at all beaches to the west of Kemil Road Access Point.
Glass containers at all beach access points
Pet rules differ per beach area. Please visit the pet information page to find out if your pet is allowed on the beach.
Feeding wild animals is unhealthy for you and the animals and encourages bacterial growth.
Beach-going Tips:
Bring plenty of water, sunscreen, and insect repellent. Wear a hat, shoes and sunglasses.
Stay on marked trails to protect the plants and animals of the dunes.
Do not swim when rip current warnings are posted or in large crashing waves, which can cause rip currents. Should you get caught in a rip current, do not try to swim against it. Instead, swim parallel to the shoreline until you are out of the current.
Stay off the lake ice! It is full of hidden, thin spots and gaps that people can fall through.
Stay out of the water when signs are posted to alert you to high bacteria counts. The bacteria may harm your health.
Watch for strong winds blowing away from the beach that hijack rafts and beach toys.
Do not feed the seagulls! Human food is unhealthy for gulls and encourages them to flock. When they flock, they make the beach dirty.