Mount Baldy Temporarily Closed

Mount Baldy is temporarily closed until further notice.
West Beach
Visitor Activities:
Swim in the cool waters of Lake Michigan. Lifeguards are on duty in the summer.
Hike through the dunes on the many marked trails.
Fish in nearby Long Lake.
Bird watch along the shoreline or marked trails.
Facilities:
Area opens 7 a.m. and closes 30 minutes past sunset, daily, except from Memorial Day through Labor Day, when area is open, 9 a.m. to dusk, daily
Walk-in traffic, 6 a.m. until sunset, daily
Fee charged only in summer
Year-round restroom facilities
300-vehicle parking lot including bus & RV parking spaces
Information board listing current park activities
Bath house with showers and lockers (will open on May 22 for the season)
Fun Facts:
Southern most tip of Lake Michigan
Research area for universities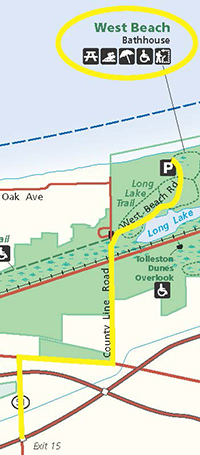 Driving Directions:
Starting at U.S. 80/94, go north on U.S. 51/Ripley Street 1 mile.
Turn right (east) on Melton Road/U.S. 20 go 0.9 mile.
Turn left (north) on County Line Road and go 1 2/10 mile.
Turn right (east) into the entrance to West Beach and follow road to parking area.


Did You Know?

In 1972, Chellberg Farm became part of Indiana Dunes National Lakeshore. In the mid-1800s many Swedes settled in Porter County. Three generations of Chellbergs farmed this land.