Kemil Road Access Point
| | | | | |
| --- | --- | --- | --- | --- |
| Park Facility | Trail Map | Latitude | Longitude | Street Address |
| Kemil Road Access Point | Dune Ridge Trail | 041.40.39N | 087.00.35W | Kemil Beach, Beverly Shores, Indiana |
Visitor Activities:
Hike and bird watch along the Dunes Ridge Trail.
No lifeguards. Swim at your own risk; rip currents and waves can make swimming hazardous.
Facilities:
Area opens at 7 a.m. and closes 30 minutes past sunset, daily
Parking for cars
Information board listing current park activities
Seasonal Bathrooms (closed between November 15 and April 1)
Fun Facts:
Smelt Fishing in the spring with permit
Pets permitted after Labor Day and before Memorial Day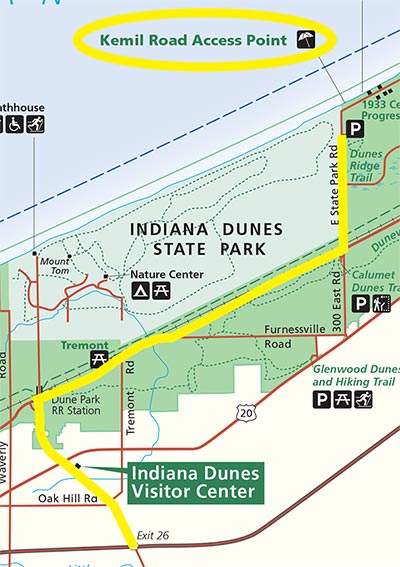 Driving Directions:
Starting at Interstate 94 and Indiana 49, go north about 3 miles to U.S. Highway 12.
The exit to U.S. Highway 12 is on the left.
Go right (east) 3 miles on U.S. Highway 12 to East State Park Road (also known as Kemil Road).
Turn left (north), go 1 mile. The Kemil Road Access Point will be on the right (east) side of the road.