Mound City Group
This earthwork consist of a 13-acre rectangular earth enclosure with at least 23 mounds. The height of the earth walls of the enclosure is about 3 to 4 feet, with an entrance or gateway on both the east and west sides. All the mounds are dome shaped except for one that is elliptical. The largest mound of the group was described by early explorers as 17.5 feet high and 90 feet in diameter. There are two additional mounds just outside the enclosure. All the walls and mounds have been reconstructed and are clearly visible.
During World War I the Mound City Group site was occupied by a military training center known as Camp Sherman. In the early 1920s after Camp Sherman was razed, the Ohio Historical Society excavated the site and began reconstruction of the Hopewell earthworks and mounds.

Download the Mound City Group site bulletin.
Did You Know?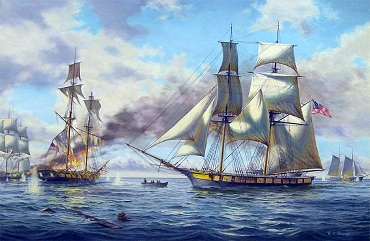 British soldiers captured during the Battle of Lake Erie during the War of 1812 were marched to a prisoner of war camp (Camp Bull) located between the present day Mound City Group visitor center, and the northern part of the city of Chillicothe. More...