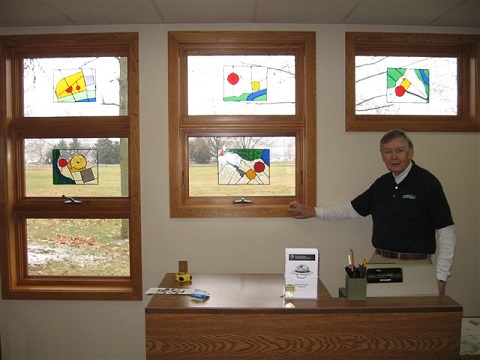 Photo courtesy of Kevin Coleman
Stained Glass Art
From the 2009 Hopewell Happenings park newspaper. Story by Ranger Tiffany Best.
As people explore the Hopewell earthworks, many find themselves inspired by the thousand year old culture's skills and designs. Over the years, members of the public have created their own Hopewell inspired works of art and donated them to the park. However, visitors are not the only ones who use their artistic talents to bring the Hopewell Culture to life. Park staff also make several of their own creative contributions to the National Park Service as is the case with of the park's latest artwork acquisition.
Last summer, William Huebner, the park's Eastern National Bookstore associate, began designing his own creative interpretations of the five earthwork sites protected by Hopewell Culture National Historical Park. Based on maps created in the 1840s, William used stained glass to represent the geometric layouts of Mound City Group, Hopewell Mound Group, Seip Earthworks, Hopeton Earthworks and High Banks Earthworks. William has enjoyed working with stained glass for years. While mainly a hobby, he says he will continue to create panels as new inspirations come. Today, these panels can be seen hanging in the windows of the visitor center adding interest and interpretation to the park.