Frequently Asked Questions
Q: What's the difference between a National Park and a National Monument?
A: National Monuments are areas reserved by the National Government because they contain objects of historic, prehistoric, or scientific interest. They are established by presidential proclamation under authority of Congress, occasionally these areas also are established by direct action of Congress. Size is unimportant in the case of the national monuments. The 1906 American Antiquites Act authorizes the President to establish National Monuments.
National Parks are areas set apart by Congress for the use of the people of the United States generally, because of some outstanding scenic feature or natural phenomena. Although many years ago several small parks were established, under present policies national parks must be sufficiently large to yield to effective administration and broad use. The principal qualities considered in studying areas for park purposes are their inspirational, educational, and recreational values.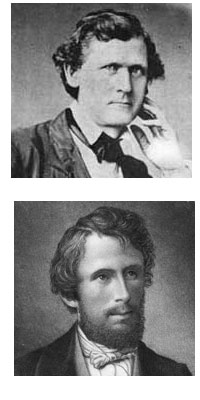 Q: When were the mounds excavated?
A: Many of the mounds at the park have been excavated in historic times. Although earthworks were mapped in the 1810s by Caleb Atwater, mound excavations formally began in the early 1840's by Ephraim Squier and Edwin Davis, both Chillicothe residents. Additional mound excavations occurred at the close of the nineteenth century and into the first quarter of the twentieth century by Warren Moorehead, William Mills, and Henry Shetrone. The last major excavations at Mound City occured during the mid-1970's by Raymond Baby. Much of the information gained from these excavations is used today to understand the Hopewell culture.
To learn more about the most notable figures in Hopewell archeology, click here.
Q: How do you pronounce Chillicothe and Scioto?
A: Chillicothe (chil-akoth-E) is the town where the park is located. The name derives from a Shawnee word for principal town.
The Scioto (sei-O-tuh) River flows for over 231 miles, beginning in Auglaize country, flowing past the Mound City Group unit and terminating at the Ohio River in Portsmouth.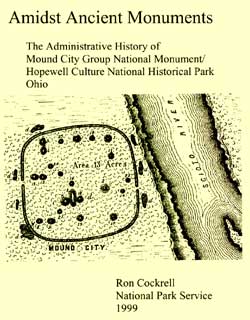 Q: When was the park established?
A: On March 2nd, 1923, President Warren G. Harding established Mound City Group National Monument by using powers granted to him by the 1906 Antiquites Act. In 1980, Congress expanded the monument by adding a portion of Hopeton Earthworks. On May 27th, 1992, Congress authorized the legislation that renamed Mound City Group National Monument to Hopewell Culture National Historical Park. That law also authorized the acquisition of three additional sites, High Bank Works, Hopewell Mound Group and Seip Earthworks. Learn more about the history of Hopewell Culture National Historical Park by reading the online Administrative History. Click here to be taken to that page.
Q: What other National Park Service sites are there in Ohio?
A: The National Park Service has a total of nine national park sites and three other sites/areas in Ohio.
In addition to Hopewell Culture National Historical Park, they are:
(Click on site name to be taken there. Park's "alpha code" is bolded in parenthesis. See map at bottom of page for geographic locations of these Ohio NPS sites.)
Cuyahoga Valley National Park

(CUVA) preserves over 33,000 acres of the pastoral Cuyahoga River Valley between Akron and Cleveland.

Charles Young Buffalo Soldiers National Monument

(CHYO) is new to the National Park Service as of

March 25th, 2013

. The site commemorates the achievements and legacy of Colonel Charles Young and the African-American men who comprised the famed Army regiments of the Buffalo Soldiers. Colonel Young was the third African-American to graduate from the Military Academy at West Point and the first African-American National Park Superintendent in 1903 (

Sequoia National Park

).

Dayton Aviation Heritage National Historical Park

(DAAV) preserves the legacy of Paul Laurence Dunbar, Wilbur and Orville Wright and the early development of aviation in Dayton.

First Ladies National Historic Site

(FILA) preserves and interprets the roles of America's First Ladies and their impacts on our nation's social and political history.

James A. Garfield National Historic Site

(JAGA) preserves and interprets the story and personal belongings of the 20th President of the United States, James A. Garfield.

Perry's Victory and International Peace Memorial

(PEVI) commemorates the Battle of Lake Erie during the War of 1812.

William Howard Taft National Historic Site

(WIHO) commemorates the only man to serve as Chief Justice of the Supreme Court of the U.S. and President of the United States.

David Berger National Memorial

(DABE) honors the memory of David Berger, an American citizen who was one of 11 Israeli athletes killed during the 1972 Olymplic Games. (This site is located at the

Mandel Jewish Community Center of Cleveland

-

click here for info & directions

).

Fallen Timbers Battlefield and Fort Miamis National Historical Site

(FATI) recognizes, preserves and interprets U.S. military history and Native American culture between 1794-1813. (Site is managed by

Metroparks of Toledo

).

North Country National Scenic Trail

(NOCO) links scenic, natural, historic, and cultural areas across seven states (NY, PA, OH, MI, WI, MN & ND), allowing visitors to experience a variety of northern landscapes.


Did You Know?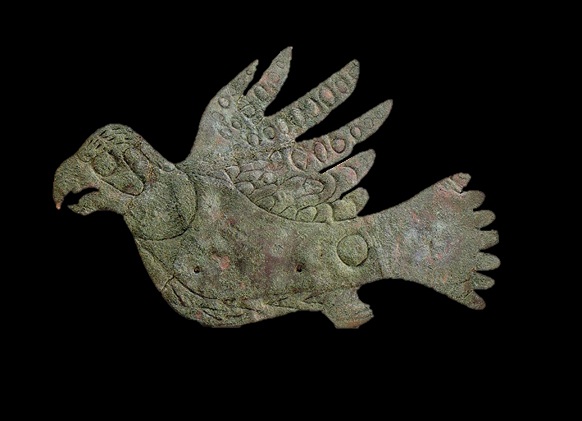 People of the Hopewellian Culture made extensive use of copper from the Lake Superior region, near the Keweenaw peninsula and Isle Royal area. Copper was worked into elaborate objects and effigy artwork without using smelting techniques. More...