Temporary Suspension of Reference Collection Research

Due to preservation and maintenance work scheduled for the park archives and research room/library space, new public research requests will not be filled from June 1st to at least January 30th, 2014.
Change in Park Hours

The park is currently open daily from 9 a.m. to 5 p.m. with the last shuttle bus departing Lower Town at 5:45 p.m. More »
Frequently Asked Questions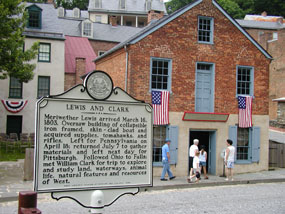 NPS photo
What does the sign on Maryland Heights say?
Painted around 1903-06, the sign reads Mennen's Borated Talcum Toilet Powder. See this handout (pdf) for more information.
What was the highest flood?
The highest flood was in March 1936. Floodwaters crested at 36.5' destroying all bridges across the Shenandoah and Potomac Rivers at Harpers Ferry.
When did Storer College close?
Storer College graduated its last class in 1955.
When did West Virginia become a state?
West Virginia was admitted to the Union as the 35th state on June 20, 1863.
When did Harpers Ferry become a national park?
Harpers Ferry became a Harpers Ferry National Monument on June 30, 1944 and an act of Congress changed the name from Monument to National Historical Park on May 29, 1963.
What state is Harpers Ferry in?
Harpers Ferry's administrative offices are located in West Virginia, but the park consists of land in West Virginia, Virginia and Maryland.
Where is John Brown buried?
John Brown is buried on the Brown Farm in North Elba, New York, near Lake Placid.
What 2 rivers and 3 states meet near Harpers Ferry?
Harpers Ferry is located at the confluence of the Shenandoah and Potomac Rivers. Three states, West Virginia, Virginia and Maryland meet in the area.



Did You Know?

John Brown's Fort has been moved 4 times: in 1891 to Chicago to the World's Columbian Exposition, in 1895 to the Murphy Farm near Harpers Ferry, in 1909 to Storer College Campus and in 1968 to its present location.