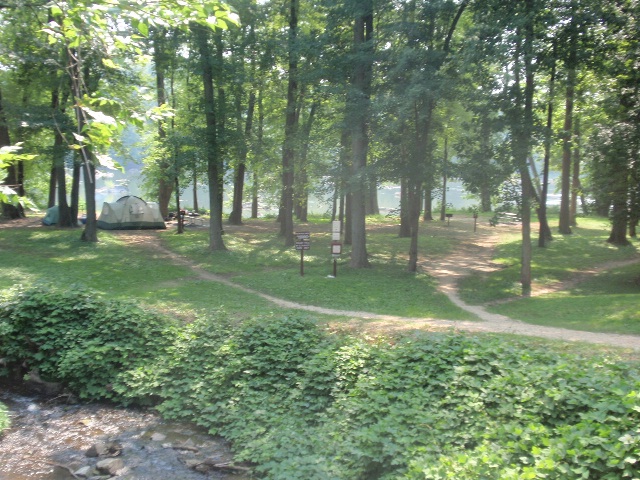 NPS Photo
Camping is allowed only in designated sites. If you are planning on leaving a parked car at a C&O Canal Parking lot, visitors must register their vehicle through the new online registration system. Visit the registration form here. Print your receipt and place on your dashboard. If unable to print, please visit the nearest visitor center.
Marsden Tract Camping is the only camping area that requires a reservation. All other campgrounds are on a first-come, first-served basis and do not require reservations.
A maximum of 2 tents and 8 people per site except for group campsites.
The C&O Canal is a Trash Free Park. Please plan to take all trash with you.
Group Campsites are located at McCoy's Ferry, Fifteen Mile Creek, Paw Paw Tunnel, and Spring Gap. They are $20 per site, per night with a maximum of 35 people. NO reservations required - first come first serve basis.
Quiet hours are between 10 p.m. and 6 a.m.
Pets must be on a leash or under other physical control at all times.
Fires are restricted to the grills and fire rings provided or to portable grills positioned off the ground. Coals must be extinguished and removed from the park.
Firewood may be collected from dead material on the ground but for use in campgrounds only. Do not remove wood from the campground.
Firewood cannot be brought into the park.
For the protection of drinking water, campers may not wash dishes, bathe, or clean fish near wells.
Draining or dumping refuse or body wastes from trailers or other vehicles is prohibited.
Hiker-Biker Campsites

No fee charged.
30 hiker-biker campgrounds located every 6 to 8 miles along the canal.
Stay is limited to one night per site, per trip.
All sites have a chemical toilet, water, a picnic table, and grill. Please Note: Potable water may not be available at each campsite. Water is treated with iodine. Please plan to have water purification tablets with you. Water is turned off from November 15 to April 15 each year.

Mile 16.6 Swains Lock (water is unavailable until further notice)
Mile 26.1 Horsepen Branch
Mile 30.5 Chisel Branch
Mile 34.4 Turtle run
Mile 38.2 Marble Quarry
Mile 42.5 Indian Flats
Mile 47.6 Calico Rocks
Mile 50.3 Bald eagle Island
Mile 62.9 Huckleberry Hill
Mile 75.2 Killiansburg Cave
Mile 79.2 Horseshoe Bend
Mile 82.7 Big Woods
Mile 90.9 Opequon Junction
Mile 95.2 Cumberland Valley
Mile 101.2 Jordan Junction
Mile 110 North Mountain
Mile 116 Licking Creek
Mile 120.6 Little Pool
Mile 129.9 Leopards Mill
Mile 133.6 Cacapon Junction
Mile 139.2 Indigo Neck
Mile 144.5 Devils Alley
Mile 149.4 Stickpile Hill
Mile 154.1 Sorrel Ridge
Mile 157.4 Purslane Run
Mile 162.1 Town Creek
Mile 164.8 Potomac Forks
Mile 169.1 Pigmans Ferry
Mile 175.3 Irons Mountain
Mile 180.1 Evitts Creek