Temporary Suspension of Reference Collection Research

Due to the park archives and research room/library space move, new public research requests will not be filled until at least June 30th, 2014.
Change in Park Hours

The park is currently open daily from 9 a.m. to 5 p.m. with the last shuttle bus departing Lower Town at 6:45 p.m. More »
Getting Around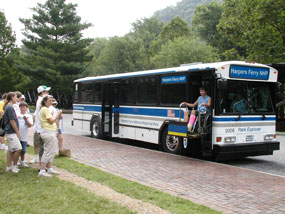 National Park Service
A shuttle transportation system with handicapped accessible buses connect the Park Visitor Center with the Lower Town District.


Did You Know?

Robert Harper operated a ferry across the Potomac River in 1747. His heirs, the Wagers, maintained the operation until 1824 when a bridge was built across the Potomac.