Temporary Suspension of Reference Collection Research

Due to preservation and maintenance work scheduled for the park archives and research room/library space, new public research requests will not be filled from June 1st to at least January 30th, 2014.
Change in Park Hours

Beginning November 1, the park will be open daily from 9 a.m. to 5 p.m. with the last shuttle bus departing Lower Town at 5:15 p.m. More »
Getting Around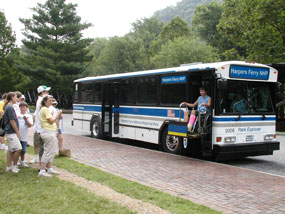 National Park Service
A shuttle transportation system with handicapped accessible buses connect the Park Visitor Center with the Lower Town District.


Did You Know?

Harpers Ferry changed hands 8 times during the Civil War. These Union troops posed for a picture on Camp Hill in Harpers Ferry in October, 1862.