Eric Hope
Over 90 species of mammals call Grand Canyon National Park home, giving this park higher mammalian species diversity than Yellowstone! From the largest land animal in North America to some of the highest bat species diversities in the United States, Grand Canyon is home to a far larger mammalian population than most visitors may think. Most visitors to the park see mule deer, elk, and squirrels, but many of Grand Canyon's mammals are secretive and nocturnal and often move around unnoticed.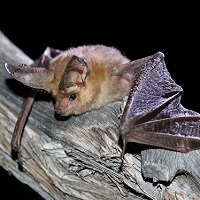 NPS Eric Hope
Bats
Grand Canyon National Park is home to one of the highest bat diversities anywhere in the United States, providing habitat to 22 species of bats.
Many bats in the park eat insects, with the Little Brown Bat (Myotis lucifugus) capable of eating 1,200 mosquito-sized insects an hour. Others feed on fish and yet ot
hers eat the nectar of fruit producing plants-helping to pollinate the plants. Although it's unlikely you'll encounter all of Grand Canyon's bat species during your visit, look into the evening and night skies to view the only mammals capable of true flight.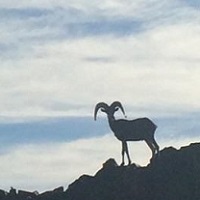 ACE Gerald A. Buckman
Bighorn Sheep
One of the largest and most charismatic of Grand Canyon National Park's wildlife is the desert bighorn sheep. This species is the largest native animal in the park with males weighing up to 300 lbs (135 kg), though two nonnative species living in the park, bison and elk are larger. Though bighorn are generally associated with mountainous terrain, the unique landscape found in the Grand Canyon provide excellent habitat unlike any other on earth. The canyons have provided remote refuges for these animals and this is the only non-reintroduced population of desert bighorn.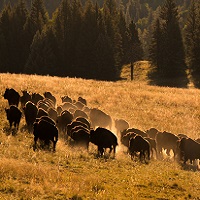 NPS Eric Hope
Bison
American Bison are the largest land-dwelling mammal in North America, weighing over 2000 lbs (900kg). Unlike bison you may see in Yellowstone, the bison found in Grand Canyon National Park are not native and are a hybrid between American bison and cattle which were introduced to the area in the early 1900s in an effort to create a bison species with leaner meat, an effort later deemed a failure. Currently, bison are only found on the North Rim of the Grand Canyon.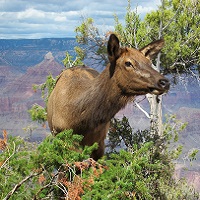 NPS Eric Hope
Elk
Elk (Cervus elaphus) are the largest member of the deer family (Cervidae) and the second largest ungulate in Grand Canyon National Park. The Rocky Mountain elk (Cervus elaphus nelsoni) you see in the park today came from 303 individuals introduced to the state from 1913-1928 from the Yellowstone National Park population. While they can appear calm, the elk are wild animals that can be dangerous. Please view these animals from at least 100 feet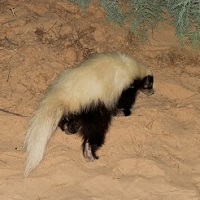 NPS Jen Hiebert
Hog-nosed Skunk
The Grand Canyon is home to one of the world's largest species of skunk, the American hog-nosed skunk (Conepatus leuconotus). The park is north of the species' known range, but two skunks were reported by river trips on the Colorado River in 2014. It is unknown whether the species has been overlooked in the Grand Canyon in the past, or if it has expanded its range northwest. These sightings suggest a breeding population on both sides of the river. Park biologists are beginning a study of the distribution and presence of hog-nosed skunks in the canyon.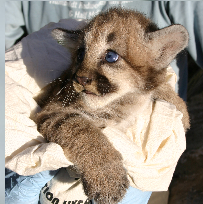 NPS
Mountain Lion
Mountain lions are the largest predators found in the Grand Canyon. There are 18 native South American, 25 native North American, and 40 English names for this species, and the most common are puma, cougar, panther, and catamount. Humans in Grand Canyon have no reason to fear mountain lions because they do not see humans as prey. For mountain lions however, being hit by cars is a common cause of death. Please use caution while driving, especially on East Rim Drive!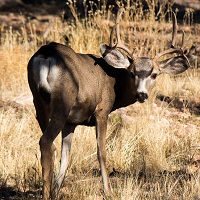 NPS Eric Hope
Mule Deer
"Mule" or "Burro Deer" are very common to western North America. Mule Deer have no canine teeth, multi-part stomaches for food storage. You can identify them from other species of deer by their "slotting" or irregular leap. The most noticeable differences between white-tailed and mule deer are the size of their ears which more closely resemble that of a mule. They also have a distinctive tail coloration and the configuration of their antlers.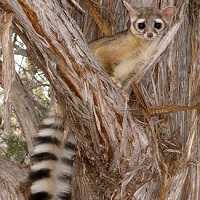 NPS
Ringtail
This small mammal, often called a ringtail cat, miner's cat, or bassarisk, is Arizona's state mammal. It is a common, albeit rarely-seen, member of Grand Canyon's fauna. The musky smell they excrete deters would be predators such as foxes, coyotes, bobcats, and mountain lions.
Where are the Mammals?
Riparian:
Of the 34 mammal species found along the Colorado River corridor, 15 are rodents and eight are bats. River otters may have disappeared from the park in the last decade and muskrats are extremely rare. However, an increase in the population size and distribution of beavers has occurred seen since the construction of Glen Canyon Dam. Beavers cut willows, cottonwoods, and shrubs for food, and can significantly affect the riparian vegetation. Other rodents, such as antelope squirrels and pocket mice, are mostly omnivorous, using many different vegetation types. Grand Canyon bats typically roost in desert uplands, but forage on the abundance of insects along the river and its tributaries.
In addition to bats, coyotes, ringtails, and spotted skunks are the most numerous riparian predators. They prey on invertebrates, rodents, and reptiles. Raccoon, weasel, bobcat, gray fox, and mountain lion are also present, but are much more rare. Mule deer and desert bighorn sheep are the ungulates that frequent the river corridor. Mule deer are generally not permanent residents along the river, but travel down from the rim when food and water resources there become scarce.
Desert Scrub:
The mammalian fauna in the woodland scrub community consists of 50 species, mostly rodents and bats. Three of the five Park woodrat species live in the desert scrub community. Many generations of woodrats inhabit the same middens, which can serve as valuable indicators of past climatic conditions and associated vegetation. Numerous caves in the inner canyon provide roost sites for migratory and resident bats. Maternity colonies are especially prone to disturbance from human exploration, and greater efforts are needed to inventory park caves for bats and establish protective measures where necessary.
Coniferous Forest:
The conifer forests provide habitat for 52 mammal species. Porcupines, shrews, red squirrels, tassel eared Kaibab and Abert squirrels, black bear, mule deer, and elk are found at the park's higher elevations on the Kaibab Plateau.
It is illegal to approach or feed wildlife in Grand Canyon National Park
---