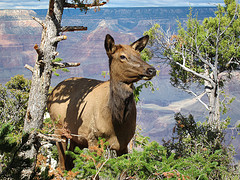 NPS photo
Did you know that if you visited Grand Canyon 10 years ago it would have been a rare occasion to see an elk? Merriam's elk were historically found in other parts of Arizona, even as far north as the San Francisco Peaks, but never inside Grand Canyon National Park. This species was extirpated from the state in the 1890"s due to overhunting.
The elk visitors see today throughout the South Rim are Rocky Mountain elk. These animals were introduced to the state from Yellowstone National Park. Beginning in 1913 and continuing until 1928 a private conservation group transplanted a total of 303 elk in crates from Yellowstone to various parts of Arizona by trains and wagons. A small group was released near Williams, AZ about 50 miles south of the park.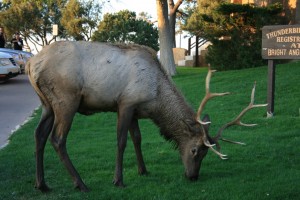 NPS photo
Rocky Mountain elk are not adapted to the arid climate of Arizona. As a result, these animals have expanded their range in search of water sources, of which Grand Canyon and its neighboring forests have many. Elk are drawn to stock tanks, ephemeral pools, run-off areas, and unnatural lawns like those found near the historic lodges in Grand Canyon Village. These attractants place elk in close proximity to park visitors with insufficient space to maintain a safe viewing distance.
Elk are wild animals. The elk in Grand Canyon have become tolerant of human presence, making them unpredictable and very dangerous. Never feed or approach wildlife.