More Park Facilities Reopen During May 2013

Watch Hill and Sailors Haven marinas open May 10. Limited ferry service from Sayville to Sailors Haven resumes May 13 and ferries from Patchogue to Watch Hill start on May 18. Remaining park facilities to reopen by May 25, 2013. More »
Things To Do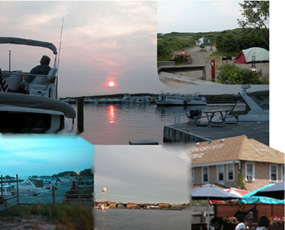 You can Enjoy a Variety of Recreational and Educational Activities at Fire Island National Seashore
Fire Island is a magical place that has provided fond memories for generations of people who have lived, worked or visited on the island. As a part of Fire Island National Seashore, the prospect of future memories is still alive for many more people.
You can enjoy sightseeing, hiking, and wildlife-viewing on nature trails and along entire seashore and grounds of William Floyd Estate. Canoeing, boating, and fishing are a few of the water-based activities you may find in Great South Bay, along salt marshes, between Watch Hill and Smith Point. Interpretive programs are offered at all sites, although schedules vary by season. For ocean beach recreation, lifeguards are on duty at Watch Hill and Sailors Haven from late-June through Labor Day.

A small walk-in campground is located at Watch Hill beyond the marina and behind the dunes. It is available from mid-May through mid-October. Wilderness camping in the Otis Pike Fire Island High Dune Wilderness is available all year, but heat and abundant ticks and mosquitoes make this a less desirable option during the summer. A permit is required and restrictions are enforced. You must hike at least 1½ miles in from the wilderness boundary, and carry out everything you've taken in with you. You can enter the wilderness area from either Watch Hill or Smith Point (beyond the Wilderness Visitor Center).

The marinas at Watch Hill and Sailors Haven are open from mid-May to mid-October. These facilities are operated by a National Park Service concessioner, Fire Island Concessions, LLC. Both locations are accessible only by ferry, water taxi or private boat.

Logistics on Fire Island can be quite complicated, so be sure to review ferry schedules in advance. Ferries run regularly to the island in the summer months but are limited in the off-season. A water taxi provides service between island communities and park locations. See "Directions" for park access information.


Did You Know?
The piping plover is a federally threatened and New York State endangered species. It may be delisted when a total of 575 breeding pairs can be maintained in New York and New Jersey for five years. Fire Island National Seashore is currently the home of 15 - 20 nesting pairs of these shorebirds. More...