More Park Facilities Reopen During May 2013

Watch Hill and Sailors Haven marinas open May 10. Limited ferry service from Sayville to Sailors Haven resumes May 13 and ferries from Patchogue to Watch Hill start on May 18. Remaining park facilities to reopen by May 25, 2013. More »
Camping

Under the stars, near the sound of the surf, waking to a chorus of songbirds. Camping on Fire Island can be a memorable experience.
Camping on Fire Island is restricted to the designated family and group campground site at Watch Hill (open mid-May to mid-October only), by permit only within the Otis Pike Fire Island High Dune Wilderness (available year-round, but number of permits and number of people per site are limited), and at Smith Point County Park.
Reservations are recommended for the Watch Hill Campground, now available on-line through Fire Island Concessions, LLC, and for Smith Point County Park, through the Suffolk County Park System.
After May 15, 2013, reservations will be required through Recreation.gov for Fire Island wilderness camping permits. While the breach at Old Inlet is open, all check-in and access to both wilderness camping zones will be through the Watch Hill Visitor Center (when staffed). Watch Hill is only accessible by passenger ferry from Patchogue, or by private boat.
The Watch Hill and Wilderness camping experiences require that you walk your gear at least ½ mile from the ferry dock or hike at least 1½ - 5 miles into the designated wilderness. At Watch Hill, you're not able to camp directly on the beach, but the campsites are a short walk over the boardwalk to the beach.
Smith Point County Park is the only place on Fire Island where you may drive your camper or trailer to the site. Limited outer beach camping at Smith Point County Park may also be available for self-contained units, but tents are not allowed on the beach. You may contact the county park directly for more information or reservations.
At Fire Island National Seashore campsites, at least one person in each camping party must be 21 years of age or older.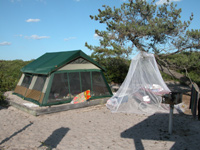 For More Information:
See Campgrounds
For your safety, watch for poison ivy and always be prepared for ticks or mosquitoes, which at times can be abundant!
Did You Know?
Seventeen pre-existing communities remain inside the boundaries of Fire Island National Seashore. Some early supporters of the national seashore were interested in its establishment to ensure that a proposed parkway down the middle of Fire Island would not be constructed. More...