Pet Restrictions in Effect March 15 through Labor Day

Dogs/other pets (except for service animals) are not allowed in the wilderness or on any of Fire Island's federally owned oceanfront beaches from March 15 through Labor Day to help protect threatened and endangered beach-nesting shorebirds. More »
Backcountry Camping Permit and Access Procedures

Reservations for required permits must be obtained through www.recreation.gov. Due to the breach at Old Inlet, access to both east and west wilderness camping zones must now be from Watch Hill or points west, and involve a 1½ to 8 mile hike. More »
Attention Watch Hill Ferry Passengers

Due to channel conditions, delay or cancellation of ferry service between Patchogue and Watch Hill may occur. For updated ferry schedule information, please call 631-475-1665.
Directions & Maps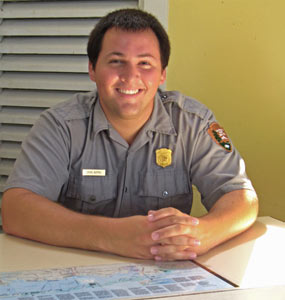 You can get to Fire Island National Seashore facilities and destinations from a number of entry points and by various modes of transportation.
But you can't drive from one end of Fire Island to the other.
Remember to allow enough time for Long Island traffic conditions. Always be aware of seasonal ferry schedules if you plan to come or go by water.
For information on travel to Fire Island:
For information on getting around on Fire Island:


Did You Know?
In the mid-1970s, Fire Island's deer herd consisted of only about 50 white-tailed deer. By 2005, the number was estimated to be 500-700 deer. More...