Sportsman's ORV driving limitations

Due to the breach at Old Inlet, the sportsman's driving area is reduced to approximately 1¼ miles of the beach west of the Wilderness Visitor Center. Required permits may be purchased at this visitor center when staffed, for use through 12/31/2013. More »
New Backcountry Camping procedures

Reservations for required permits must be obtained through Recreation.gov. Due to the breach at Old Inlet, access to both east and west wilderness camping zones must now be from Davis Park or access points west, and involve a 2½ to 10 mile hike. More »
Directions & Maps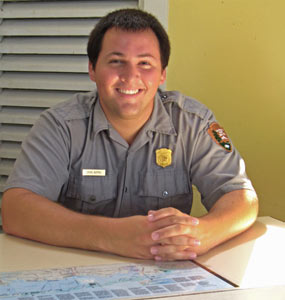 You can get to Fire Island National Seashore facilities and destinations from a number of entry points and by various modes of transportation.
But you can't drive from one end of Fire Island to the other.
Remember to allow enough time for Long Island traffic conditions. Always be aware of seasonal ferry schedules if you plan to come or go by water.
For more information on travel to Fire Island, please visit:
To learn more about travel between sites on Fire Island, please visit:


Did You Know?

You might get to observe a number of birds on a ranger-guided walk at the William Floyd Estate: a blackburnian warbler perched on a tree branch, a woodcock flushed from the fields, or a bald eagle chasing an osprey with a fish over the salt marsh! More...