More Park Facilities Reopen During May 2013

Watch Hill and Sailors Haven marinas open May 10. Limited ferry service from Sayville to Sailors Haven resumes May 13 and ferries from Patchogue to Watch Hill start on May 18. Remaining park facilities to reopen by May 25, 2013. More »
Plan Your Visit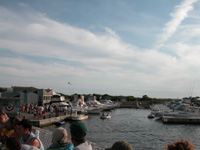 Explore and Enjoy Diverse Resources and Recreational Opportunities within Fire Island National Seashore
Parts of Fire Island are accessible all year, although the majority of visitors come to Fire Island during the summer months when all facilities are open. From late June through early September, the weather is the most favorable for beach-related activities. However, the beach can still be enticing on those warmer days of autumn, winter and spring. Properly prepared, every visit to Fire Island can be special.
The Fire Island Lighthouse and Wilderness Visitor Center-both parts of Fire Island National Seashore-and Smith Point County Park and Robert Moses State Park-located on either end of Fire Island-are accessible year-round, but operating hours vary by season. There is no paved road connecting these two destinations, however, so you'll have to return to mainland Long Island to get from one site to the other.

Fire Island's Sailors Haven, Barrett Beach/Talisman and Watch Hill units are dependent on water travel, and their facilities are open from mid-May through mid-October each year.
A few of the Fire Island communities are able to accommodate day-use visitors, but most provide seasonal services for residents and their guests only. Communitites are accessible by ferry from Bay Shore (Kismet to Ocean Bay Park), Sayville (Cherry Grove and Fire Island Pines) and Patchogue (Davis Park).
The William Floyd Estate, on Long Island in Mastic Beach, is open Memorial Day weekend through mid-November, Friday through Sunday and holidays.
Ranger-led interpretive activities are primarily scheduled for summer months at all locations, but special walks and programs are offered throughout the year.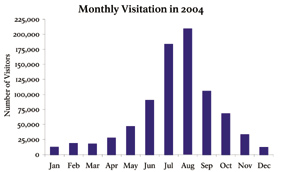 By visiting during the shoulder seasons of spring and fall, or by planning to visit on weekdays during the summer, you may avoid the crowds.
In the off-season (October through April), however, public transportation to the island may be limited, and some services on various parts of the island are unavailable.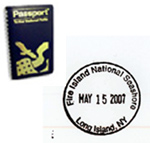 Participants in the National Park Travelers Club and other cancellation stamp collectors may get their passport book stamped at seven locations: Fire Island Lighthouse, Wilderness Visitor Center, Park Headquarters in Patchogue are open all year, but days and hours vary by season; William Floyd Estate, Watch Hill Visitor Center, Sailors Haven Visitor Center and the Patchogue-Watch Hill Ferry Terminal are open seasonally. You will have to plan more carefully in the shoulder and winter seasons in order to get your passbook stamped.
You may be able to purchase a "Passport to Your National Parks" book at each Fire Island National Seashore visitor center, or you can order the item online directly from Eastern National.
Be sure to review the train and ferry schedules in advance, and pay particular attention to the return schedules. Ferries run regularly to the island in the summer months but are limited in the off-season. See "
Directions
" for park access information.
Schedule at least a full day for each visit to Fire Island, since getting to and from the island requires more time than you might expect. Allow for time to enjoy the seashore.


Did You Know?
Fire Island National Seashore's Biennial Science Conference provides an opportunity to hear about the current research projects taking place in the park. More...