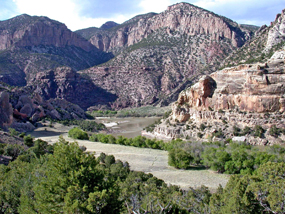 NPS
The Green River
The Green River extends 730 miles from its headwaters in Wyoming to its confluence with the Colorado River in southern Utah. The river enters Dinosaur at the monument's northern boundary and flows out of the monument 58.5 miles later, just south of Split Mountain.
Within Dinosaur National Monument, the Green's journey takes it through the Canyon of Lodore, Echo Park, Whirlpool Canyon, Island Park, and Split Mountain Gorge. The Green and its largest tributary, the Yampa River, meet at Steamboat Rock in Echo Park.
Flaming Gorge Dam, 47 miles upstream from Dinosaur's boundary, has regulated the Green since November 1962. Impoundment has severely altered the river's natural regime below the dam. Before Flaming Gorge Dam, the Green River was often clouded by dirt, silt, and other sediments; was subject to high spring flows fed by snow melt; and the water temperature could range from near freezing in winter to almost 70°F (21°C) in summer.
In 1962, with the opening of the dam, these conditions largely disappeared from the Green River. Spring flows, temperature fluctuation, and turbidity (the cloudiness of the water) were all reduced. The Green River downstream from the dam became a much clearer, cooler, and calmer river.