Water Pump Handles Temporarily Removed

Evitts Creek Hiker-Biker Campground water pump handle has been removed due to bad water samples. Handles will be reinstalled when good water samples are received.
Parking Lot Closure

CSX is now beginning a phase of their bridge project that requires the closure of the Lock 74 parking lot for approximatly 18 months. Access to visitor parking near Lock 75 is now re-opened with a gravel parking lot at the site.
Boat Rides at Great Falls

Regularly scheduled tour times for the mule-drawn canal boat at Great Falls have changed. In July and August 2014 tours will be offered Saturdays and Sundays at 11:00, 1:30 and 3:00. More »
Boating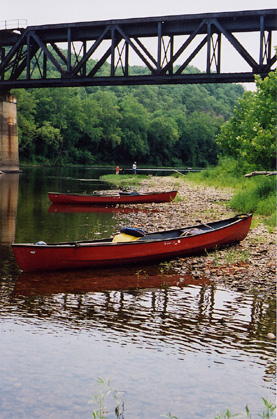 NPS Photo
Several short and widely separated sections of the canal have been rewatered and offer boating opportunities. Boats need to be carried around lift locks. Listed below are the watered sections of the canal.
Mile 0 to 22 Georgetown to Violettes Lock
Mile 99.8 to 99.30 Williamsport to Lock 44
Mile 112 to 113 Big Pool
Mile 120 to 121 Little Pool
Mile 124.1 to 124.7 Hancock
Mile 162- to 167 Oldtown to Town Creek
Use of electric motorized vessels is allowed only at Big Pool, Little Pool, and canal waters from Lock 68 to Town Creek Aqueduct. Gasoline and propane motorized vessels are prohibited within the park. Personal floatation devices should be used as required by the state of Maryland. Use special care if boating on the Potomac River. Canoeing on the Potomac should be done under the direct supervision of an experienced adult canoeist. Boat launch ramps are available along the canal. See Milepost guide.
WARNING: THE FOLLOWING AREAS OF THE POTOMAC RIVER ARE EXTREMELY DANGEROUS:
Canoeing is not advisable between Great Falls and Chain Bridge, an area where many have drowned.
Dam 2 at Seneca (low dam)
Dam 3 above Harpers Ferry (low dam) Canoeing is not recommended between Dam 3 and the U.S. 340 bridge downstream of Sandy Hook,
Dam 4 near Downsville (portage on Maryland side)
Low water dam at North Branch. Canoeists should put in at Spring Gap.
Power company dam at Williamsport (portage on West Virginia side)
Dam 5 above Williamsport (high dam, must portage on either side)
Laws in whitewater areas require personal floatation devices. Don't just carry your PFD in the boat. Please wear your life jacket- properly buckled, zipped, tied, or clipped.
The National Park Service partners with two boat concessioners in the downstream end of the canal. For more information click here.
Did You Know?

The C&O Canal begins in Georgetown. The canal made extra money by selling water to numerous factories in Georgetown to power water driven machinery such as water wheels, etc. Many factories were located next to canal property. More...