Kayaking the Potomac Gorge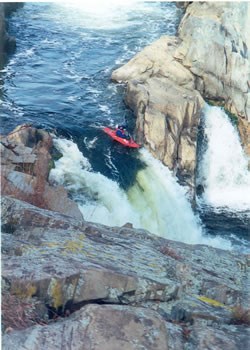 Potomac River Gorge Paddling Safety
The sport of paddling down rivers is becoming increasingly popular among recreation enthusiasts. The Potomac River Gorge offers an array of options for paddlers to experience such as surf and play waves, attainment up the gorge, mystery move spots for squirt boaters, lessons for those who want to learn, and all a very short distance from our Nation's Capital.
With the abundance of opportunities to recreate in the gorge, it is important to be aware of the inherent dangers that can happen. In the last decade several drownings and multiple incidents of kayaker swims, injuries, and loss of equipment have occurred here. Recreate on the Potomac River safely, and do not underestimate its power! In the Gorge, there is a high volume of water with a fast, powerful flow. The Potomac runs through the Great Falls and then funnels downstream through the narrow Mather Gorge. Be aware that even small changes in water levels can dramatically increase the difficulty of the whitewater, within hours on the same day! Your safety while on and around the Potomac River is our concern.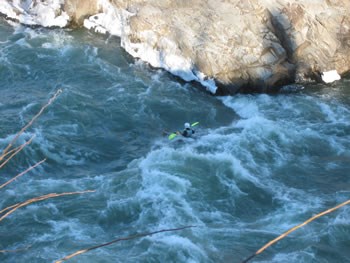 Paddling Safety Essentials:
Wear Personal Flotation Devices (PFD or lifejacket) and helmets at all times. Be sure your boat and gear are in good shape.
Check water levels the day of your trip. Be alert for changes in the weather. The rapids and features in the gorge change dramatically with different water levels.

The levels can change daily and have also been known to change within a matter of hours.

At higher flows, eddy lines have strong vortexes that can cause boats and paddlers to be sucked under water, and in the chance of a swim, make it difficult to reach shore. It is very important to check the water levels the day of your trip and even right before you get on the river. Rain upstream will affect water levels in the Gorge, even if the rain is not falling locally. USGS StreaMail has instructions for receiving water levels via email and text message.
Do not attempt to run a river or rapid that is beyond your ability. Whitewater paddling requires special skills and abilities.

The sections of the Potomac River flowing by the C&O Canal National Park and Great Falls National Park vary from Class II (novice) to Class V+ (extreme).

See American Whitewater's

International Scale of Difficulty

for detailed descriptions.
Know how to read the river, and to r

ecognize and avoid the following hazards:

Powerful hydraulics

Surging eddies

Boiling eddy lines

Rocks and undercuts

Strainers
Have a plan. Know your put-in and take-out locations. Access to the Potomac River can be a challenge. It is a good idea to become familiar with the access spots, as some of them are steep, rocky, or hard to find. This should be considered when planning a whitewater trip. Scroll down for resources that will help you plan your visit.
Accidents also occur out of the water on the shoreline. Wear appropriate footwear and be cautious of entering and exiting your boat.
Alcohol and other stimulants impair judgment and motor functions affecting your ability in making quick decisions.
Prepare for the elements:

Drink plenty of water.
Exposure to cool air and cold water can lead to hypothermia.
Resources
---
*Interested in obtaining a commercial use authorization to run tours in Great Falls Park? Please call 703-289-2522 or email for more information.*
---
INTERNATIONAL SCALE OF DIFFICULTY
From the Safety Code of the American Whitewater Affiliation
Class I: Easy. Fast moving water with riffles and small waves. Few obstructions, all obvious and easily missed with little training. Risk to swimmers is slight; self-rescue is easy.
Class II: Novice. Straightforward rapids with wide, clear channels which are evident without scouting. Occasional maneuvering may be required, but rocks and medium sized waves are easily missed by trained paddlers. Swimmers are seldom injured and group assistance, while helpful, is seldom needed.
Class III: Intermediate. Rapids with moderate, irregular waves which may be difficult to avoid and which can swamp an open canoe. Complex maneuvers in fast current and good boat control in tight passages or around ledges are often required; large waves or strainers may be present but are easily avoided. Strong eddies and powerful current effects can be found, particularly on large-volume rivers. Scouting is advisable for inexperienced parties. Injuries while swimming are rare; self-rescue is usually easy but group assistance may be required to avoid long swims.
Class IV: Advanced. Intense, powerful but predictable rapids requiring precise boat handling in turbulent water. Depending on the character of the river, it may feature large, unavoidable wave and holes or constricted passages demanding fast maneuvers under pressure. A fast, reliable eddy turn may be needed to initiate maneuvers, scout rapids, or rest. Rapids may require "must" moves above dangerous hazards. Scouting is necessary the first time down. Risk of injury to swimmers is moderate to high, and water conditions may make self-rescue difficult. Group assistance for rescue is often essential but requires practiced skills. A strong eskimo roll is highly recommended.
Class V: Expert. Extremely long, obstructed, or very violent rapids which expose a paddler to above average endangerment. Drops may contain large, unavoidable waves and holes, or steep congested chutes with complex, demanding routes. Rapids may continue for long distances between pools, demanding a high level of fitness. What eddies may exist may be small, turbulent, or difficult to reach. At the high end of the scale, several of these factors may be combined. Scouting is mandatory but often difficult. Swims are dangerous, and rescue is difficult even for experts. A very reliable eskimo roll, proper equipment, extensive experience, and practiced rescue skills are essential for survival.
Class VI: Extreme. One grade more difficult than Class V. These runs often exemplify the extremes of difficulty, unpredictability and danger. The consequences of errors are very severe and rescue may be impossible. For teams of experts only, at favorable water levels, after close personal inspection and taking all precautions. This class does not represent drops thought to be unrunnable, but may include rapids which are only occasionally run.
Last updated: August 27, 2020