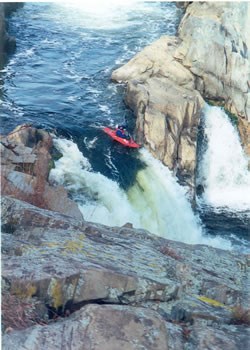 Potomac River Gorge Paddling Safety
The sport of paddling down rivers is becoming increasingly popular among recreation enthusiasts. The Potomac River Gorge offers an array of options for paddlers to experience such as surf and play waves, attainment up the gorge, mystery move spots for squirt boaters, lessons for those who want to learn, and all a very short distance from our Nation's Capital.
With the abundance of opportunities to recreate in the gorge, it is important to be aware of the inherent dangers that can happen. In the last decade several drownings and multiple incidents of kayaker swims, injuries, and loss of equipment have occurred here. Recreate on the Potomac River safely, and do not underestimate its power! In the Gorge, there is a high volume of water with a fast, powerful flow. The Potomac runs through the Great Falls and then funnels downstream through the narrow Mather Gorge. Be aware that even small changes in water levels can dramatically increase the difficulty of the whitewater, within hours on the same day! Your safety while on and around the Potomac River is our concern.