Waterpocket District
The spectacular Waterpocket District (or southern section) of Capitol Reef National Park is open year-round. Vehicles with high ground clearance, such as pickup trucks, vans, and a variety of passenger cars, can usually negotiate most of the roads without difficulty. However, road conditions can vary greatly depending on recent weather conditions. Spring and summer rains and winter snows can sometimes leave roads slick, muddy, washed out, and impassable to the best high-clearance four wheel drive vehicle. Many of the roads are unpaved, and are often rough, sandy, and corrugated. Check at the visitor center for current road and weather conditions before you begin.
Vehicle and foot travel in the southern part of the park can be light to moderate, depending on the time of year, so be prepared for the unexpected. If you have problems, help may not arrive for hours or even days. Carry plenty of water, food, gas, adequate clothing, a shovel, and emergency supplies. Cool or cold temperatures will accompany sudden summer storms or an unexpected night out in the backcountry. Daytime temperatures in the summer may top 100 °F (37.8°C) and winter highs may stay below freezing, so dress and plan accordingly.
THE LOOP TOUR
Most visitors to the southern part of the park drive the 125-mile (201.2 km) loop, or various sections of it. Start at the visitor center and follow Hwy 24 east to the Notom Road; take the Notom-Bullfrog Road south to the Burr Trail Road; continue on the Burr Trail Road west to Boulder; continue north on Hwy 12 to Torrey; and then drive east on Hwy 24 back to the visitor center. Highways 24 and 12 and the first 11 miles (17.7 km) of the Notom Road from Hwy 24 are paved. The Burr Trail Road from the park boundary west to Boulder is also a paved road.
Side trips can be taken south of the Burr Trail Road junction along the Notom- Bullfrog Road to short day hikes at Surprise and Headquarters Canyons (each is a moderate 2-mile (3.2 km) round trip), or to the Hall's Creek Overlook, which may require high clearance and/or four wheel drive, for an outstanding view of the Fold and Brimhall Natural Bridge. Along the Burr Trail Road, a high-clearance four-wheel-drive side road follows Upper Muley Twist Canyon to the Strike Valley Overlook for a bird's eye view of the Fold and the Henry Mountains.
Camping is restricted to the 5-site Cedar Mesa campground located along the Notom-Bullfrog Road 20 miles (32.2 km) south of Hwy 24. The campground is free and is run on a first-come, first-served basis. Picnic tables, grills, and pit toilets are provided. Water is not available. Wood collecting is not permitted in the park. A 3.5-mile (5.6 km) round trip hike to Red Canyon, a colorful, high-walled box canyon, starts from the campground.
Backpackers must obtain a free backcountry permit at the visitor center before starting their trip. Multi-day backpacking trips can be done in Hall's Creek, Upper and Lower Muley Twist Canyons, and other areas of the park.
Approximate Distances From the Visitor Center:
9 mi (14.5 km) Notom Road
31 mi (49.9 km) Cedar Mesa Campground
43 mi (69.2 km) Burr Trail Road Junction
45 mi (72.4 km) The Post
60 mi (96.6 km) Hall's Creek Overlook
80 mi Boulder (128.7 km) (via the Notom-Bullfrog and Burr Trail Roads)
47 mi (75.6 km) Boulder (via Hwy 12)
Notom-Bullfrog/Burr Trail Road to Lake Powell (at Bullfrog Marina)
The Notom-Bullfrog/Burr Trail Road south from the Burr Trail Road junction traverses approximately 25 miles (40.2 km) of desert country to Glen Canyon National Recreation Area and Lake Powell at Bullfrog marina. After leaving Capitol Reef, the unpaved road continues 10 miles (16.1 km) to a major road junction. The road to Lake Powell is paved from this point south, approximately 10 miles (16.1 km), to the boundary of Glen Canyon NRA. The access road to Hall's Creek Overlook is located along this section of road and is marked by signs. Within Glen Canyon, the road is unpaved until you reach the developed area approximately 4 miles (6.4 km) from the marina. The road from Capitol Reef to Bullfrog is normally in good condition, with the exception of the Bull Creek crossing (several miles north of the marina) which is occasionallyimpassable due to deep water, cut banks, and mud.
Approximate Distances From the Burr Trail and Notom-Bullfrog Roads Junction:
2 mi (3.2 km) The Post
3 mi (4.8 km) South Park Boundary
15 mi (24.1 km) Junction with Paved Road to Bullfrog Marina
15.5 mi (24.9 km) Halls Creek Overlook Access Road
25 mi (40.2 km) Bullfrog Marina
GEOLOGY
A drive south along the Notom-Bullfrog Road offers views of the Waterpocket Fold. The monocline, or one-sided uplift of the Earth's crust, is a premier example of the bending and folding of rock layers. The Waterpocket Fold is notable for its great length of multiple layers of exposed and carved colorful sedimentary rock. The monocline extends from Thousand Lake Mountain in the north to Lake Powell in the south.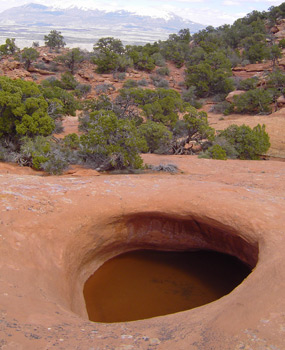 NPS/Al Hendricks
Crustal pressure reactivated an ancient buried fault deep within the Earth, causing the overlying sedimentary rock layers to uplifted and folded. Today this monocline appears as a steep slope that ends in an abrupt cliff line. The east side of the Fold is tilted as much as 60% from the normal horizontal which caused accelerated stream erosion to occur. An estimated 7,000 feet (2,134 m) of overlying rock has been eroded away since the formation of the Fold, 60 million years ago. The west side, or escarpment face, is a near vertical cliff line and a formidable barrier to travel.
Geological features provide a source of park names. The vast expanse of white Navajo Sandstone atop the sloped side of the monocline is dotted with numerous natural tanks or potholes that collect rain water, contributing the name "Waterpocket" Fold. Navajo Sandstone domes resemble the Capitol building, hence the name "Capitol." Many early prospectors were former sailors who likened the vertical cliffs of Wingate Sandstone to a barrier common in nautical travel: a "Reef."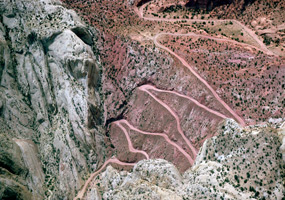 NPS
As you travel along the Notom-Bullfrog Road you will be driving through Strike Valley, which runs parallel to and on the east side of the Waterpocket Fold. The Burr Trail Road crosses through the Fold via a series of steep switchbacks. Both roads offer an outstanding viewing platform for this geologic wonder and of the Henry Mountains to the east. Enjoy your visit to this land of extraordinary rock formations...it's time well spent!
Did You Know?

Excessive consumption of water during prolonged strenuous exertion can flush critical salts from your body and cause an electrolyte imbalance. Include sports drinks and/or salty snacks in your diet during long desert hikes.