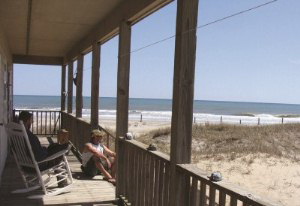 2015 Season
Cabins will be open from March 16, 2015 - November 28, 2015
Reservations begin January 05, 2015 at 10:00 AM
Reservations for cabins at Cape Lookout National Seashore can be made one of two ways:
Online at Recreation.gov
By phone at 877-444-6777 (TDD: 877-833-6777)
Reservations are accepted by phone from 10:00AM to midnight EST March through October and 10:00AM to 10:00PM EST November through February.

Great Island Cabins
Long Point Cabins
Location
South Core Banks
North Core Banks (Portsmouth Island)
Ferry leaves from ...
Davis, NC
Atlantic, NC
Number of Cabins
25 cabin
20 cabins
Beds per Cabin
4-12 bunk beds/cabin
6 bunk beds/cabin
Size
288 to 960 sq ft each
About 500 sq ft each
Cabin Type
Individual. Retangular.
Duplex. Octagon or Retangular.
Porches
Private screened porch
Unscreened porch shared by both cabins in the duplex
Accessibility
Cabin 2 is handicap accessible.
Cabins 9 & 10 are handicap accessible.
There are no hard surface roads or walkways.
Electricity
Wired for electricity, but visitors must supply the generator
Electricity provided
Air Conditioning
No A/C
A/C in cabins 5, 6, 7, & 8
No A/C in cabins 1-4 or 9-20
Ice and Gasoline
Ice and gasoline can be purchased at the cabin office
Other Amenities
Each cabin includes a hot water heater, private bathroom with shower, table and chairs, kitchen with propane oven/stove (propane included), bunk beds with mattresses, and a charcoal grill.
Not Included
Cabins do NOT include:
linens, bedding, cookware, or a refrigerator
Office Hours: 8:00 AM to 4:00 PM, 7 days per week during the open season

Great Island Cabin Information: 252-725-0256
Long Point Cabin Information: 252-732-4574
General/Off-Season Information: 252-728-2250 ext. 0
Check In / Check Out
Pick up the keys for your rental cabin at the office located in the cabin area.
Check In Time: 1:00 PM
Check Out Time: 10:00 AM
Ferry Contact Information
Phone numbers for the ferries to the cabins can be found on the Authorized Ferry Services webpage.
What to Bring:
Linens and bedding
Cookware
Coolers (cabins do not have refrigerators)
Food and food storage
First-aid supplies
Flashlights or gas lanterns, if desired
Generator, if desired (Great Island only)
Pets in Cabins
Visitors who are renting one of the cabins may keep their pet in the cabin as long as the pet is kept in a crate. Pets may also be kept tied up on the cabin porch provided they are not left unattended.
Pets are not allowed inside any other buildings in the park.
Vehicles on the Islands
Visitors renting a cabin will have an unpaved parking area near their cabin with space for two vehicles. Additional parking is available with a permit in the cabin area's unpaved long-term parking lot.
There are no roads in the national seashore: all driving is done on loose sand. Four-wheel drive is highly recommended. Driving information can be found on the Beach Driving webpage.
Beach Camping
Primitive beach camping is also available. For more information, please visit the Beach Camping webpage.