Change in Harkers Island Visitor Center Hours

The Harkers Island Visitor Center is open Sunday through Saturday from 9:00 a.m. until 5:00 p.m.
Morehead City Harbor Dredged Material Management Plan

Cape Lookout National Seashore is a cooperating agency in the Morehead City Harbor Integrated Dredged Material Management Plan being developed by the U.S. Army Corp of Engineers. The full plan draft can be downloaded from the following link. More »
List of Authorized Ferry Services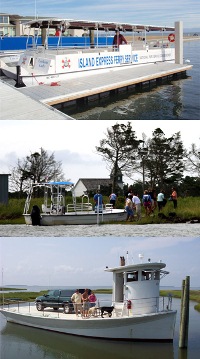 Getting to Cape Lookout National Seashore can be an adventure! Several styles and sizes of boats are used as ferries with 16 passenger flat bottom skiffs predominating.
There are three main types of ferries which can be seen in the photo to the left. Large passenger ferries (top) operate out of Beaufort and Harkers Island. Small passenger ferries (middle) are used by the services from Ocracoke to Portsmouth and from Beaufort and Harkers Island.
Ferry companies in Davis, NC, and Atlantic, NC, use small vehicle ferries (bottom) to reach the cabin camps.
Different companies may operate different styles of these ferries.
Passengers are generally delivered directly onto the sound-side beach. The larger passenger ferries, some carrying up to 49 passengers, and vehicle ferries make use of the docks. All are open to the elements. On windy or rainy days be prepared to get wet.
The ferries landing on Shackleford Banks and the Cape Lookout Lighthouse area of South Core Banks will be changing on February 15, 2014. Information on the upcoming changes to the Shackleford Banks and Cape Lookout Lighthouse ferries can be found in the October 18, 2013 news release.
Need to know the location of visitor centers, ferry landings and key points of interest? This link will open a
park map
(pdf - 1 mb) in a new window.
Make your reservations directly with the above providers.
Ferries usually operate from April through November, but may choose to operate throughout the year.
Note: Pets are permitted on SOME ferries to Cape Lookout National Seashore - call first for specifics. Ferry operators have the right to refuse to carry pets.


Did You Know?
Many animals will use the beach and vegetation to hide in plain sight. Their fur, feathers, or scales help them blend in with their environment to provide protection against predators. Cape Lookout Natioanl Seashore