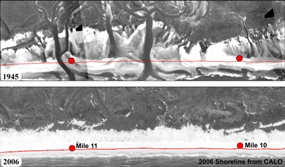 Stanley Riggs & Dorothea Ames, Department of Geological Sciences, East Carolina University, Greenville, NC
Wind and Waves
Barrier islands, like Shackleford and the Core Banks, are naturally dynamic geologic features.
The most dramatic changes are brought about by hurricanes and other storm force winds. The winds which accompany these storms blow sands down the shoreline and blow waves across the island, carrying sands with them. These storms can open inlets, erode beaches, and build up the marshes on the soundside of the island.
However, the wind and waves do not need storms to reshape an island. The gradual migration of sand as it is blown by winds and carried by waves constantly alters the shape and location of barrier islands in such a way that the passage of a few decades, even with few or small-scale storms, can radically alter the landscape.
An example of this change can be seen in the image above. (Note: the red line marks the location of the shoreline in 2006 at high tide and the circles indicate the mile markers for mile 10 and mile 11. The lighter areas represent higher elevations while the darker areas indicate lower elevation, water, or vegetation.)