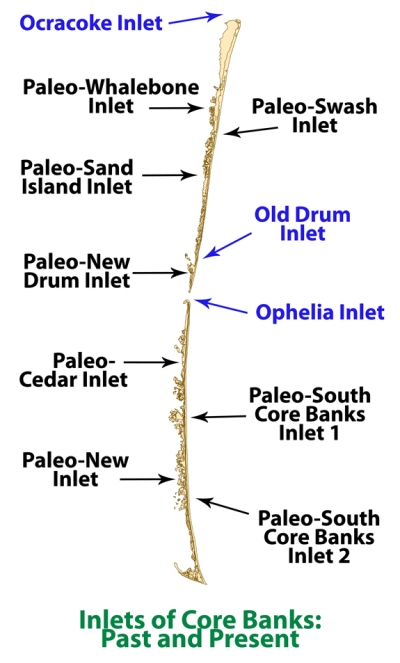 Inlets of Core Banks
There are generally two large islands which compose Core Banks. These islands are called North Core Banks, also known as Portsmouth Island, and South Core Banks. These islands have been separated more or less constantly since 1899 by an inlet located between mile 18 and mile 24 of the national seashore. At times, additional inlets open, separating Core Banks into three or more islands. Some of the inlets which have appeared along Core Banks are Whalebone Inlet, Swash Inlet, Sand Island Inlet, Old Drum Inlet, New Drum Inlet, Ophelia Inlet, Cedar Inlet, and New Inlet. In order to distinguish them from existing inlets, geologists typically call historical inlets paleo-inlets (for example, Whalebone Inlet is called Paleo-Whalebone Inlet).
These inlets are often highly dynamic: opening, widening, shallowing, closing, and reopening. For example, Old Drum Inlet opened around 1899 just south of mile 18. This inlet closed naturally in 1910, but was reopened by storm surge from a hurricane in the fall of 1933. Old Drum Inlet attempted to reclose and, in order to maintain this channel to the ocean, the inlet was periodically dredged from 1939 until 1952. Old Drum Inlet closed again in January of 1971. New Drum Inlet was artificially opened that same year near mile marker 22. Old Drum Inlet was reopened in 1999 by Hurricane Dennis.
In 2005, Hurricane Ophelia deposited sand in Old Drum Inlet, which closed shortly afterwards, and opened an inlet near mile 24, named Ophelia Inlet. Ophelia Banks-marked by Ophelia Inlet to the south and New Drum Inlet to the north-migrated northwards, eventually closing New Drum Inlet. Hurricane Irene, which made landfall near Cape Lookout in September 2011, reopened New Drum and OId Drum Inlets. This storm also widened Ophelia Inlet.