Lighthouse Will Be Closed for Seismic Retrofit April 7 through May 16

The Lighthouse is undergoing a Seismic retrofit and will be closed from April 7 - May 16. Visitors can still access the Assistant Keepers Quarters exhibit from the south door, Lighthouse Comfort Station, and Kelp Forest Overlook. Call 619-557-5450.
Visitor Center Scheduled to be Closed May 19 through June 16

The Visitor Center will be undergoing a Seismic Retrofit and will be closed. Visitors will still be able to access the Auditorium, Ballast View and the East Patio. These dates are subject to change. Please call 619 557-5450 for updated information
National Parks Week

Come Join us during National Parks Week April 19-27. You can see the schedule here. More »
Frequently Asked Questions
Are there any days that the park is closed? Cabrillo National Monument is closed on Christmas Day, December 25. We are open the other 364 days of the year, from 9:00 AM to 5:00 PM.
What can we do there? Lots! You can take a self-guided tour of the Old Point Loma Lighthouse; visit three different exhibit rooms; see the wonders of the tidepools during the winter months; hike the Bayside Trail; see a film or slideshow in the auditorium; or enjoy spectacular views of the Pacific Ocean and the city of San Diego.
Are pets allowed? Dogs are allowed at the tidepool area, as long as they remain on a leash. Only service animals are permitted in all other areas of the park. Click here for more information.
When can we go into the tower of the lighthouse? To preserve the structural integrity of the lighthouse tower, it is normally closed to the public. However, it it open for visitors two days a year: August 25 (the National Park Service birthday), and November 15 (the lighthouse anniversary).
Are there activities for kids? Yes! Be sure to stop first at the Visitor Center to pick up a Junior Ranger activity. Then, have your child take it with them on their visit around the park to find the answers to the questions. Once completed, bring it back to the Visitor Center, where a Park Ranger will check the answers and award a Junior Ranger badge! Click here to learn more.
When is the best time to view the tidepools? During the winter. That's when the good low tides occur during daylight hours, and when we have Park Rangers and Volunteers stationed in the tidepools to answer questions. Click here for more information.
Do you take volunteers? Yes! We have an active volunteer program. Folks help us in many areas: tidepool monitoring and visitor education, natural resources, Visitor Center - you name it, we've probably got a need for a volunteer! Click here to learn more.


Did You Know?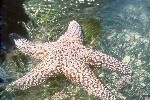 Did you know that delicate-looking tidepool creatures at Cabrillo National Monument are actually very hardy, and have adapted well to harsh conditions of pounding surf, intermittent exposure to sun and drying wind, and sharp changes in temperature and salinity?