Cabrillo National Monument Theater Closed on Selected Dates

Due to National Park Service alternate uses, the Cabrillo National Monument theater will be closed to the public on the following dates: September 10 -11, September 20, September 27, October 28 - 29, November 6, 2014. We are sorry for the inconvenience.
Maps
To help plan your visit to Cabrillo National Monument, click on the following maps for park features and location.
PARK MAP
Click here for a map of the park (PDF).
SURROUNDING AREA MAP
Click here for a map of the surrounding area (PDF).


Did You Know?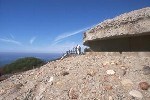 Did you know that in World War II, the Japanese Navy was ordered to avoid San Diego because of the coastal defense systems in place, some of which can still be seen today within Cabrillo National Monument?