Pet Restrictions
Pets are only allowed in a small portion of the park - along the Coastal Trail.
Why Pets Are Not Allowed
To keep your animal companions healthy and safe, and to protect and preserve the native wildlife of Cabrillo National Monument, companion/comfort or emotional support pets are not allowed in the park except along the Coastal trail. They must be on a leash of no more than six feet at all times. Pets are not allowed in the tidepools. Please keep your pet from barking at, approaching or in any way causing wildlife to react. Always pick up after your pet and remember this is a trash-free park. Please do not leave pet waste in the park--pack it out. At no time are dogs allowed to walk along Cabrillo Road. The National Park Service has prohibited pets on trails for many years. Dogs in particular can chase wildlife, pollute water sources, and can become defensive and dangerous in unfamiliar surroundings. In addition, frightened wildlife can be aggressive and may harm you or your pet. These regulations protect both pets and wildlife. If you bring a companion/comfort or emotional support pet to the upper part of the park, it must remain in your vehicle and be attended at all times. Please note there is no shade in the parking lots, and temperatures inside your vehicle can quickly rise to dangerous levels.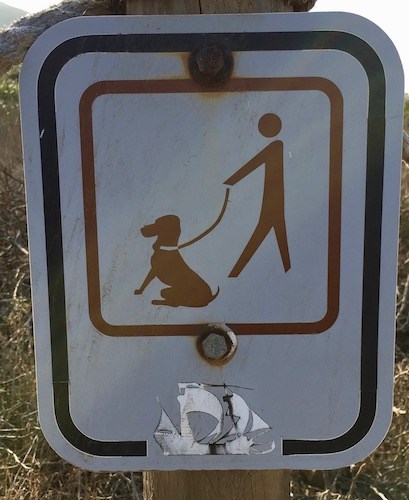 Where is the Coastal Trail?
Turn right on Cabrillo Road just past the Entrance Station. Visitors must drive to the pet area and may not walk down Cabrillo Road with their pets.
You will see this pet sign on the Coastral Trail in the tidepool area only. Pets are not allowed in all other areas.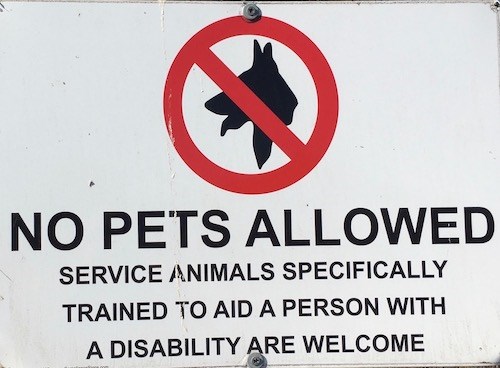 What Is Allowed
Service Animals, as defined by the Department of Justice, are permitted on a leash anywhere in the park. Service Animals do not include Emotional Support, Therapy, Comfort or Training animals. Service animals, as defined by Title II and III of the Americans with Disabilities Regulations (http://www.ada.gov/regs2010/ADAregs2010.htm), are allowed in the park.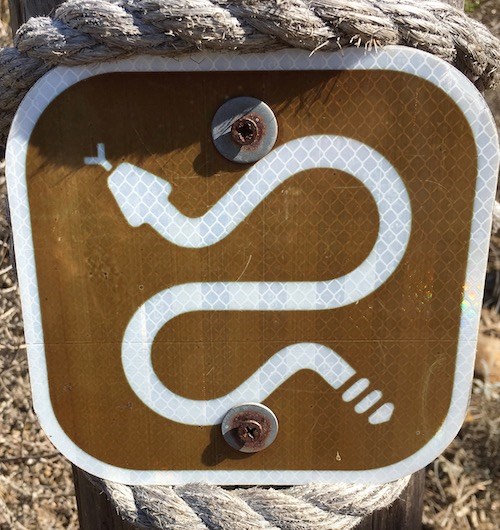 What Is Not Allowed
Pets off trail or in vegetation
Pets on leashes longer than six feet in length.
For your pet safety, beware of rattlesnakes.
Pets off the Coastal Trail in the tidepool area, in particular on Cabrillo Road, or any of the following areas; Lighthouse, Whale Watch Overlook, Event Bluff, Statue, Visitor Center, Bayside Trail, or surrounding areas are not allowed.
Pet owners not adhering to regulations may be cited.
36 CFR 2.15 (Code of Federal Regulations) provides more details


Additional Information
Do not leave pets unattended in vehicles.

Do not let pets off-leash at any time.

Remember Cabrillo is a "Pack It In, Pack It Out" park. Please be good stewards and take care of your pet waste and do not leave plastic bags along the side of the trails. Owners not adhering to these restrictions are subject to a littering citation. Plan accordingly.

Keep pets hydrated.


Last updated: June 28, 2021