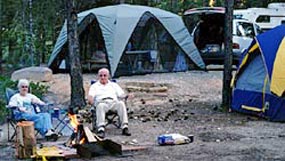 NPS
Bryce Canyon National Park has two campgrounds, North and Sunset, located in close proximity to the visitor center, Bryce Canyon Lodge and the geologic wonder that is the Bryce Amphitheater. Both have restrooms with flush toilets, and drinking water. During the summer months, coin-operated laundry and shower facilities are available at the general store nearby. There are no hook-ups in the campgrounds, but a fee-for-use dump station is available for RV users at the south end of North Campground.
NOTE: Dump-station is closed during months with freezing temperatures.
Both campgrounds are located in Ponderosa Pine forest habitat with equal amounts of shade and sun, giving them a similar appearance. All sites are limited to 10 people [with no more than 6 adults (adult=16 and up)], 3 tents and 2 vehicles and cost $30 per RV site per night, and $20 per tent site per night. Holders of the Interagency Senior Pass and Access Pass (part of the America The Beautiful - National Park Service & Federal Lands Pass System) or the Golden Age & Golden Access Passes, receive a 50% discount. Sites fill by early afternoon during the summer months. Click here for a map of both campgrounds. A Group Site is available in Sunset Campground.
North Campground has 13 RV sites available by reservation and 86 RV and Tent Sites available on a first-come, first-served basis. Sunset Campground has 20 Tent Sites and a Group site available by reservation and 80 RV and Tent Sites available on a first-come, first-served basis. Check individual pages for more information.
In anticipation of another busy year and very limited parking for our visitors, Bryce Canyon National Park will implement RV PARKING RESTRICTIONS from April 24 –September 30, 2015.
Note: These restrictions apply to all vehicles 25 feet and longer including MOTORHOMES and VEHICLES WITH TRAILERS. We encourage you to drop your trailer at the Shuttle Station, the overflow parking lot, or your campsite. You may then park your car or truck at any parking lot in the park.
RVS MAY ONLY PARK IN THE FOLLOWING AREAS:
Shuttle Station in Bryce Canyon City (3 miles north of park)
Bryce Canyon overflow parking lot (across from visitor center at entrance to North Campground)
Campsites in North, Sunset, and Ruby's campground (for those who are camping)
Sunrise Point Loop Road (use ONLY parallel parking spaces along one-way road)
All viewpoints and parking lots south of mile marker 3
RVS WILL NOT BE ALLOWED TO PARK AT THESE LOCATIONS:
Visitor Center
Sunrise General Store
Sunset Point
Bryce Point
Inspiration Point
Paria View
Fairyland Point
The free Bryce Canyon Shuttle will operate April 24 –September 30, 2015 at the following times:
April 24 –May 17: 8:00 a.m. to 6:00 p.m.
May 18 –September 8: 8:00 a.m. to 7:00 p.m.
September 9 –30: 8:00 a.m. to 6:00 p.m.
Shuttle buses run every 10-15 minutes and serve the most popular viewpoints and facilities in the park.
We apologize for the inconvenience, but our most popular parking lots are unable to accommodate these large vehicles during peak visitation.
Backcountry Camping is available at limited sites in the park. Information is available by clicking on Backcountry Camping.