Christmas, New Years Closures

The visitor center/WNPA store are closed Christmas (December 25) and New Year's (January 1) Days. Park trails remain open dawn to dusk. More »
Short Trails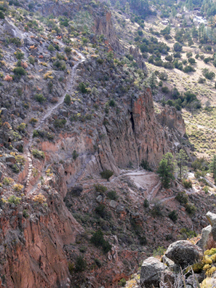 NPS Photo by Sally King
Within Bandelier's 33,000 acres there are over 70 miles of trail. Some trails are short easy loops while others can encompasses many miles and steep rocky switchbacks. There are even two trails designated for cross-country skiing in the winter.

Stock animals are allowed on some trails (day use only) with a permit available at the visitor center. Pets are not permitted on any park trails.
Did You Know?

Katydids are often called leaf hoppers. Their wings and body look like vegetation, a form of camouflage which offers this insect some protection from predators.