Short Trails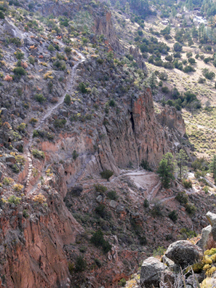 NPS Photo by Sally King
Within Bandelier's 33,000 acres there are over 70 miles of trail. Some trails are short easy loops while others can encompass many miles and steep rocky switchbacks. There are even two trails designated for cross-country skiing in the winter.
Pets are not permitted on any park trails.
Did You Know?

Baby birds often leave the nest before they can really fly. That's because the nest is the most dangerous place for the young bird to stay.