Access by Shuttle Bus Only

Through October 27, 2014 all access to the most visited part of the park, Frijoles Canyon, will be via a mandatory shuttle bus from the nearby community of White Rock from 9 AM - 3 PM daily. Private cars may drive in before 9 AM or after 3 PM. More »
Short Trails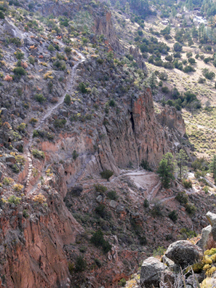 NPS Photo by Sally King
Within Bandelier's 33,000 acres there are over 70 miles of trail. Some trails are short easy loops while others can encompass many miles and steep rocky switchbacks. There are even two trails designated for cross-country skiing in the winter.
Pets are not permitted on any park trails.
Did You Know?
Queen butterflies are often mistaken for Monarchs because they look so much alike. This is beneficial to the Queen, who is avoided by predators who fear this look-alike may be as toxic as the Monarch.