Access by Shuttle Bus Only

Through October 27, 2014 all access to the most visited part of the park, Frijoles Canyon, will be via a mandatory shuttle bus from the nearby community of White Rock from 9 AM - 3 PM daily. Private cars may drive in before 9 AM or after 3 PM. More »
Alcove House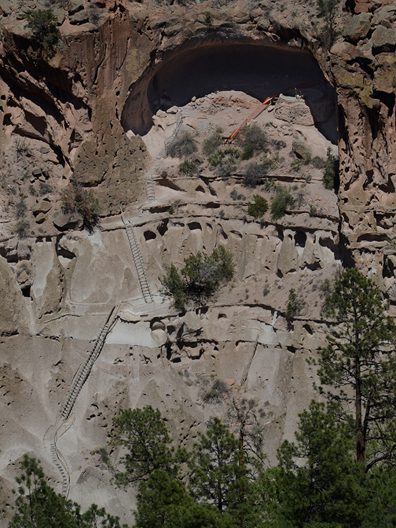 Photo by Sally King
Alcove House (the kiva in Alcove House remains closed until the roof can be stabalized) has reopened but getting there is a bit more difficult. A route marked with small posts topped by orange flagging mark the best way. Floods have left significant piles of debris and made a marked change in the terrain in this area.
Half way through the Main Loop Trail a choice must be made, turn back toward the visitor center or continue another half mile each way (1 mile round trip) to Alcove House. Formerly known as Ceremonial Cave, this alcove is located 140 feet above the floor of Frijoles Canyon. Once home to approximately 25 Ancestral Pueblo people, the elevated site is now reached by 4 wooden ladders and a number of stone stairs. In Alcove House, there is a reconstructed kiva and the viga holes and niches of former homes. Imagine climbing these ladders, carrying whatever supplies were needed, to this lofty home.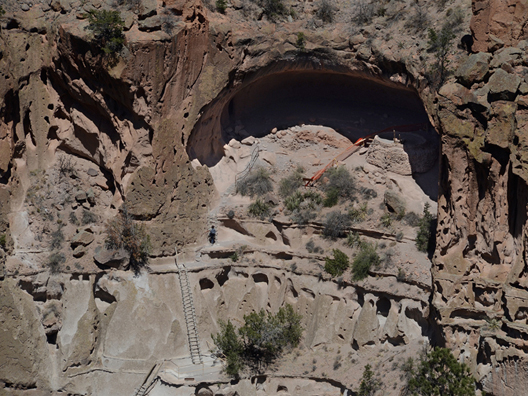 Photo by Sally King
CLOSURES
Alcove House has reopened but the kiva in Alcove House remains closed. The ladders, the stone stairs, and even the walkways to reach this Ancestral Pueblo site can be very icy and dangerous. In winters with abundant snowfall the ladders can be closed for many weeks. This climb is reopened as soon as it can be done safely. A metal gate and a sign at the base of the stairs will indicate if Alcove House is closed. Check at the visitor center for details
Did You Know?
Frijoles Creek drops approximately 80 feet over the Upper Falls. The falls occur where the waters of Frijoles Creek hit the more resistant, dense basalt rock from the neck of an ancient volcano.