Access by Shuttle Bus Only

Starting May 24, 2013 all access to the most visited part of the park, Frijoles Canyon, will be via a mandatory shuttle bus from the nearby community of White Rock from 9 AM - 3 PM daily. Private cars may drive in before 9 AM or after 3 PM. More »
Cross-Country Skiing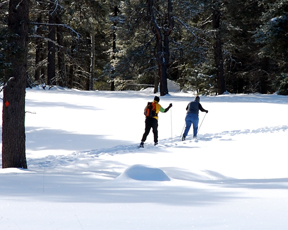 NPS Photo by Wendy Artz
Opportunities to cross-country ski, snowshoe, and hike may be found in the Upper Frijoles Trail located just off of Highway 4, near Forest Service 289. There are two trails, one is 2.4 miles round-trip while the other is 5 miles round-trip. Trails are open during daylight hours only. Hikers and skiers are asked to register at the trailhead. Pets are not permitted. Please pack out all trash. Snowshoe users and hikers are asked to stay beside the ski trail.
Seasonal Conditions
Snow volume varies from year to year so call the visitor center (505-672-3861 x 517) for details, but the ski season usually lasts from mid-November to mid-March. The trail is open all year to hiking.
Did You Know?
All the aspens in a cluster will change colors at approximately the same time.  That's because in a grouping of aspens, most are clones that grew as root sprouts from the original plant.