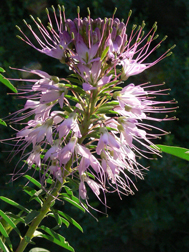 NPS Photo by Sally King
Commercial tours are not required to make advance reservations. However
ALL
commercial operations visiting the park
MUST
have a current Commercial Use Authorization (CUA), or may be denied entry.
Download a CUA application here.
Commercial vehicles must also pay a blanket entry fee based on the capacity of the vehicle(s) that are bringing visitors into the park.
Commercial tour entrance fees (based on vehicle capacity)
o Sedan (1-5 passengers) $25
o Van (1-15 passengers) $50
o Mini-bus (16-25 passengers) $60
o Motor coach (26+ passengers) $150
For additional information please contact:
CUA Coordinator
Bandelier National Monument
15 Entrance Road
Los Alamos, NM 87544
(505)672-3861 x410
Fax (505)672-9607
Unclear if you need a Commercial Use Authorization? Basically: If you accept any payment to bring visitors into Bandelier National Monument, you are commercial, whether you are non-profit or for profit.

Commercial use as defined by the NPS:
Commercial services include any or all goods, activities, services, agreements or anything offered to park visitors and/or the general public for recreational purposes which use park resources, (and) is undertaken for or results in compensation, monitory gain, benefit or profit to an individual, organization, or corporation, whether or not such entity is organized for purposes recognized as non-profit under local, state or federal laws.
School or educational group? Click here for more information.
Organized but not commercial group? Click here for more information.
Where to park:
Parking is very limited at the Frijoles Canyon Visitor Center. Groups arriving by bus must follow a special bus parking procedures, click here for more information.
How to pay:
Advanced payments for commercial entry fees are not accepted; payment by cash, check, or credit card (Visa, Mastercard, Discover, American Express) may be made upon arrival at the park entrance station.