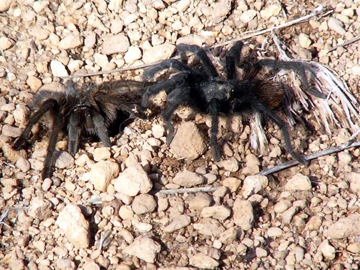 NPS Photo by Sally King
Male Tarantula Seeks Female Tarantula
When a male tarantula reaches maturity he must leave his safe and comfortable burrow to search for a female. The journey can be long, arduous, and deadly. Many tarantulas are run over by cars as they cross roadways or are eaten by predators before they ever find a partner. When the male tarantula detects a female, he cautiously approaches the entrance to the female's burrow. Once at the entrance he taps his foot to alert the female to his presence. If the female is receptive, she cautiously emerges from her den. If the female tarantula is hungry or has already mated, she is just as likely to make the male tarantula her next meal as she is to make him her mate. Even if the male tarantula is able to leave the female's burrow unscathed, he will wander off and eventually die.