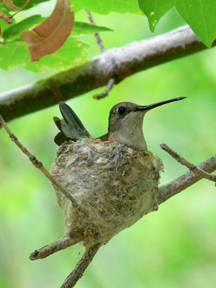 NPS Photo by Sally King
Nesting
Both Broad-tailed and Black-chinned hummingbirds build nests and raise their chicks in the park. A nest built of pieces of plant, lichens, and moss is held together by spider webs collected by the mother bird. Among hummingbirds, raising children is a "women only" job. Hummingbird dads don't participate in childrearing.
Hummingbirds usually lay two tiny white eggs. The female hummingbird incubates her eggs for approximately 15 days. As the twin hatchlings grow, the tiny nest expands to meet their needs. Mom returns frequently with food, partially digested insects, for her young brood.