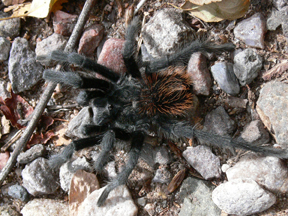 NPS Photo by Sally King
With Bandelier's wide range of ecosystems it is the perfect home to a variety of wildlife. Mule deer, Abert's squirrels, lizards, and a number of bird species are the most commonly encountered animals on a visit to the park. Some birds make Bandelier their year-round home while some are seasonal and others only migrate through the park.
When visiting, don't forget, these animals call this place home. Don't harass them and please refrain from feeding them. Many are very photogenic and don't mind having their picture taken. However, never approach too close to wildlife. Even the most timid animal can bite if it feels threatened.
NEW LISTS FOR 2014
To see an up-to-date list of mammals found in the park, click here.
To see a current list of Bandelier butterflies, click here.
To see the bird list for Bandelier for 2014, click here.