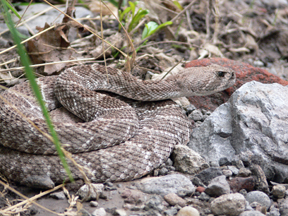 NPS Photo by Sally King
Water
Water availability is very limited in the backcountry. Adequate water should always be carried. Water from streams or springs must be treated before use. Water from the Rio Grande should never be used as drinking water as most portable filters do not remove items such as pesticides. Dehydration can be a major problem any time of the year because the air tends to be extremely dry.
Weather
Winter weather includes storms, snow, and very cold temperatures (lows from 10' to -10's). Many trails can be extremely icy. Spring weather is very variable and can change quickly. It is also the season for strong winds which often accompany a rapid change in temperature. Summer is warm, with temperatures on the open mesas being extremely hot (> 100). In late summer, thunderstorms are often a regular occurrence in the afternoons. Lightening associated with these storms can make travel on the mesatops very dangerous.
Wildlife
Rattlesnakes are not uncommon especially in the riparian areas and on rocky slopes. Mountain lions, black bear, and bobcats are residents in the park. Be prepared for a possible encounter. Always hang your food to keep it away from scavengers like raccoons and ringtails.