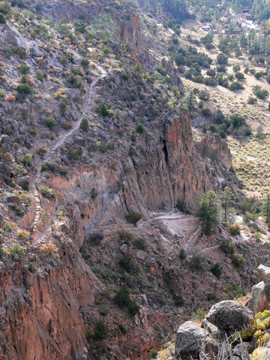 NPS Photo by Sally King
Although still very beautiful, Bandelier backcountry was heavily impacted by the Las Conchas Fire of 2011 which burned more than 60% of the park. Massive flooding in all park canyons followed and many trails were damaged or destroyed. Park trail staff has been hard at work making repairs but recurring flooding each year since has continued to cause extensive damage. Past landmarks are gone and some trails are very difficult to follow or completely destroyed. Shade is much less available than in the past. Please check at the visitor center for current conditions before hiking in the backcountry.
Back country camping is closed July 1st through September 15th in Frijoles, Alamo, Capulin, and any stream bottom, due to summer monsoon flood danger. Please back country camp only on mesa tops, in designated camping areas..
Overview
There are over 70 miles of trail within Bandelier National Monument. Trails tend either follow mesa edges or transect canyons and mesas. Some of these trails can include steep switchbacks and long drop-offs. Trails can be very icy in winter or early spring. Some trails marked on older maps are no longer maintained and may be impossible to find. Be sure to check on trail conditions by calling the visitor center at (505)672-3861 x 517.
Permits
A permit is required for any overnight stays in the backcountry. Permits are free, must be done in person, and can obtained anytime the visitor center is open, except in the last 20 minutes before closing. You may obtain a permit a maximum of 48 hours before your planned backcountry trip begins. A permit may also be obtained on the day your backcountry trip begins.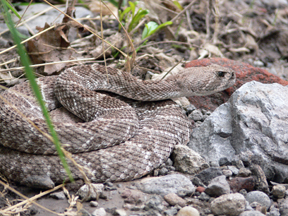 NPS Photo by Sally King
Water
Water availability is very limited in the backcountry. Adequate water should always be carried. Water from streams or springs must be treated before use. Water from the Rio Grande should never be used as drinking water as most portable filters do not remove items such as pesticides. Dehydration can be a major problem any time of the year because the air tends to be extremely dry.
Weather
Winter weather includes storms, snow, and very cold temperatures (lows from 10' to -10's). Many trails can be extremely icy. Spring weather is very variable and can change quickly. It is also the season for strong winds which often accompany a rapid change in temperature. Summer is warm, with temperatures on the open mesas being extremely hot (> 100). In late summer, thunderstorms are often a regular occurrence in the afternoons. Lightening associated with these storms can make travel on the mesatops very dangerous.
Wildlife
Rattlesnakes are not uncommon especially in the riparian areas and on rocky slopes. Mountain lions, black bear, and bobcats are residents in the park. Be prepared for a possible encounter. Always hang your food to keep it away from scavengers like raccoons and ringtails.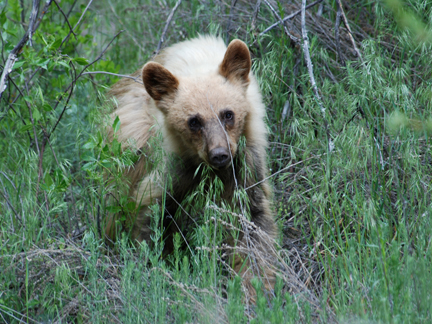 Photo by Sally King
Maps
A map is an essential backpacking item. On a plateau cut by steep canyons trails meander, switchback, and follow topographic features. A detailed topographic map of the park is available from Western National Parks Association for $12.95. It can be purchased upon your arrival or can be ordered by calling (505)672-3861 x 516. A map showing the trails and their associated mileage can be
downloaded here
. (3.19 mb PDF)