Closure for Safety Reasons of a section of the Frijoles Rim Trail (see attached)
Although still very beautiful, Bandelier backcountry was heavily impacted by the Las Conchas Fire of 2011 which burned more than 60% of the park. Massive flooding in all park canyons followed and many trails were damaged or destroyed. Park trail staff has been hard at work making repairs but recurring flooding each year since has continued to cause extensive damage. Past landmarks are gone and some trails are very difficult to follow or completely destroyed. Shade is much less available than in the past. Please check at the visitor center for current conditions before hiking in the backcountry.
Within Bandelier's 33,000 acres there are over 70 miles of trail. Some trails are short easy loops while others can encompass many miles and steep rocky switchbacks. There are even several trails suitable for cross-country skiing or snowshoeing in the winter. Longer backcountry trails often involve hiking more than 10 miles round-trip. Wilderness permits are available at the visitor center for overnight stays in the park's backcountry. Water is not readily available on most backcountry trails. Check at the visitor center for details. Pets are not permitted on any park trails.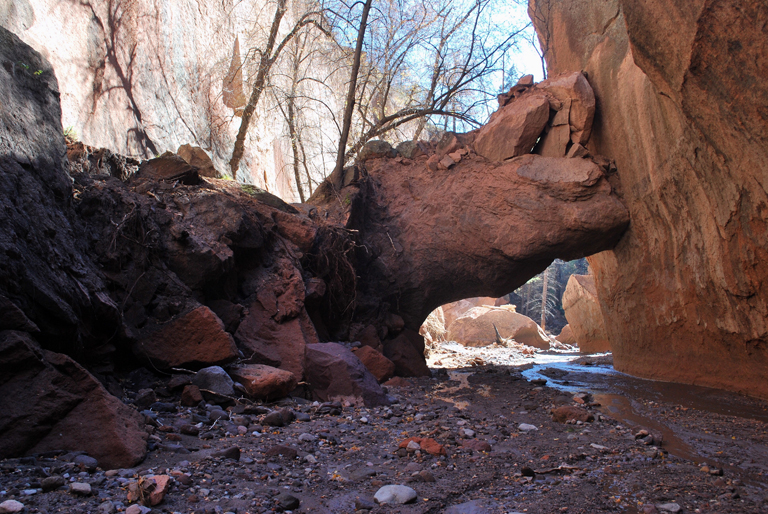 photo by kevin stillman
TRAILS STATUS AS OF 12/31/2014

For more information please contact the Visitor Center at 505-672-3861 ext. 517.

CAUTION:

Trees continue to fall on all trails in the Las Conchas burn area making passage difficult in places. Please use caution, especially on windy days.

Many of the trails in the monument experienced an excessive growth of vegetation after the summer rains this year that obscures the trail routes in places.

Trail junctions in canyon bottoms have been obliterated by floods making the location of trail routes exiting the canyons difficult to find. A good topo map and a GPS unit are highly recommended.

Frijoles Canyon Trail

OPEN

Heavily impacted by flooding for the past 4 years - much of the original trail is gone from Alcove House all the way to the Apache Springs junction. The hike between Alcove House and the Upper Crossing is basically a streambed hike at this point - passable but challenging in places due to erosion, rockfalls, fallen trees, log jams, flood debris, dense vegetation and numerous stream crossings. The same is true for the three mile section between the Upper Crossing and the Apache Springs junction. Flooding continues to occur in Frijoles Canyon and the location of where the stream is flowing changes with each flood. Winds continue to blow down trees all along the entire route in Frijoles.

Frijoles Rim Trail

OPEN

Switchbacks from Upper Crossing to south rim of Frijoles are severely damaged by heavy runoff and erosion. This portion of the trail from the Upper Crossing to the Alamo Springs Trail junction is officially closed for public use at this time. Remainder of the trail to the Long Trail junction is OK.

Upper Alamo (Stone Lions) Trail

OPEN

Eroded but passable. Trail missing in the bottom of the canyon, route is marked with cairns. Trees continue to fall along this route.

Mid Alamo Trail

OPEN

Trail missing in the bottom of the canyon, route is marked with cairns. Switchbacks on both sides are eroded but passable.

Capulin Canyon Trail

OPEN

Trail missing or damaged for most of the entire route from park boundary down to Painted Cave. This is basically a streambed hike most of the way now. Trail in Lower Capulin from Painted Cave to the Alamo Rim Trail is eroded but passable.

Upper Crossing (Ponderosa) Trail

OPEN

OK but trees continue to fall along this route.

Apache Springs Trail

OPEN

Trail on mesa is OK but trees continue to fall along this route. Switchbacks into Frijoles Canyon are severely eroded and not recommended for hiking due to loose footing on steep terrain. The lower portion of this trail is mostly gone all the way to the bottom of the canyon.

Ski Trails

OPEN

OK but trees continue to fall on these trails making passage difficult for skiers and snowshoers

Cerro Grande Trail

OPEN

OK

Alamo Boundary Trail

OPEN

OK

Boundary Peak Trail

OPEN

Eroded but passable. Switchbacks into Capulin Canyon are severely eroded and trail is missing in places.

Turkey Springs Trail

OPEN

Trail hard to find in places, some cairns have been placed along the way but GPS highly recommended to follow route - same goes for trail from park boundary across USFS land to Pumice Mines Trailhead on FR289.

Alamo Rim Trail

OPEN

OK but sometimes hard to find trail in places because of so little use

Burro Trail

OPEN

OK

Falls Trail

OPEN

OK. Trail below Upper Falls Overlook closed indefinitely to all access due to severe flood and erosion damage. Trail completely destroyed from Lower Falls to Rio Grande.

Burnt Mesa Trail

OPEN

OK

Frijolito Trail

OPEN

OK

Frey Trail

OPEN

OK

Long Trail

OPEN

OK

Upper Capulin switchbacks

OPEN

Badly eroded but passable

Mid Capulin switchbacks

OPEN

East side - Eroded but passable; West side - badly eroded and trail missing in places..

Tyuonyi Overlook Trail

OPEN

OK.

Alamo Springs Trail

OPEN

Eroded but passable. Trees continue to fall on this route.

Alcove House Trail

OPEN

OK

Tsankawi Trail

OPEN

OK