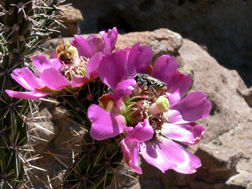 NPS Photo by Sally King
The range of elevations in Bandelier's landscape of mesas and canyons creates a diversity of ecosystems, populated by numerous species of plants. Water, most in the form of winter snow or late summer afternoon thunderstorms, is a major key to the survival of these plants. A wet season or a series of wet seasons can spur the growth of plants not seen for years or even decades. Cyclic fire, browsing by wildlife, and insect infestations are some other factors that affect the range and variety of plant species in an area.
To see a current (2014) list of plants found in Bandelier NM click here.
Flowers of Bandelier

10 Photos

Bandelier has a diversity of colorful wildflowers that bloom from early spring through late fall.