Stock Use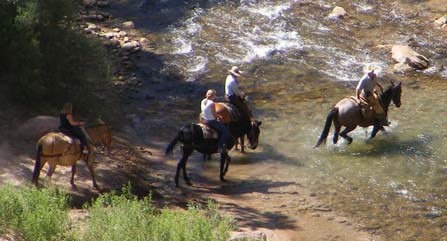 Horses traditionally have been used to explore Zion National Park. Stock animals that are allowed in Zion include horses, mules, and burros. Animals that are not allowed include but are not limited to llamas, dogs, goats, and camels.
Overnight trips
The only overnight stock camp in Zion is Hop Valley Site A and your stay is limited to one night. A Wilderness permit is required. Stock must be hobbled or tethered to reduce damage to vegetation. To reduce the spread of noxious and exotic weeds, stock must be fed certified weed-free hay two days prior to the trip.
Day trips
Permits are not required for day trips. However, stock are prohibited during spring thaws, unusually wet periods, or times when their use would cause trail damage. Maximum group size is six animals.
Stock trails
Where trails are present, stock animals must remain on trails. Free trailing or loose herding is not allowed. Maintain a slow walk when passing hikers. When standing, stock must be kept at least 100 feet from drainages. The Wilderness Map shows which trails are open to pack animal use. The following trails are open to horse or pack animal use:
La Verkin Creek Trail (west of Beartrap Canyon)

Hop Valley Trail
Connector Trail
Northgate Peaks Trail
Wildcat Canyon Trail
West Rim Trail (north of Cabin Spring)
Sawmill Spring Trail
Telephone Canyon Trail
East Mesa Trail (east of the Observation Point Trail junction)
East Rim Trail (south of Stave Spring)
Deer Trap Mountain Trail
Cable Mountain Trail
Chinle Trail
Sandbench Trail (open to public use from November 1 to March I only)
Off-trail use of horses or pack animals is permitted only in:
Lower Coalpits Wash (from the trailhead to the junction with Scoggins Wash)
Scoggins Wash
Huber Wash
Last updated: December 3, 2021