Pets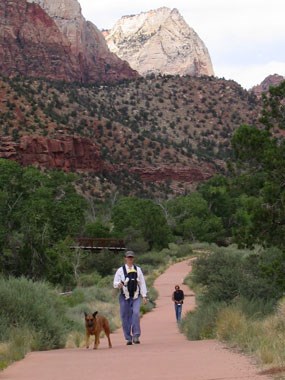 To protect wildlife, the experience of other visitors, and your pet, the following rules apply at Zion National Park:
Leashed pets may be walked on the Pa'rus Trail. All other trails, and all wilderness areas, are closed to pets.

Pets are not allowed on shuttle buses or in public buildings within Zion.

Pet waste must be immediately removed and disposed of in trash receptacles.

Pets must be under physical control on a leash less than six feet long at all times. Properly restrained pets are allowed along public roads and parking areas, in the developed campgrounds and picnic areas, and on the grounds of the Zion Lodge.

Zion is hot! The interior temperature of a vehicle can quickly warm to dangerous levels, during most months of the year. Leaving a pet unattended in a vehicle with environmental conditions that pose a health risk to the animal is prohibited.

Properly-restrained pets may be left unattended in developed campgrounds only when environmental conditions are safe for the animal, and the animal is not making unreasonable noise (barking, etc.)

36 CFR 2.15

(Code of Federal Regulations) provides more details concerning pets within National Park Service areas. Pet owners not adhering to regulations may be cited (minimum fine is $100).
Read the complete
Superintendent's Compendium
Boarding kennels are available in the nearby towns of Rockville, Hurricane, St. George, Kanab, and Cedar City.
Last updated: July 22, 2019