Zion- Mount Carmel Highway Temporarily Closed Due to Major Rock Fall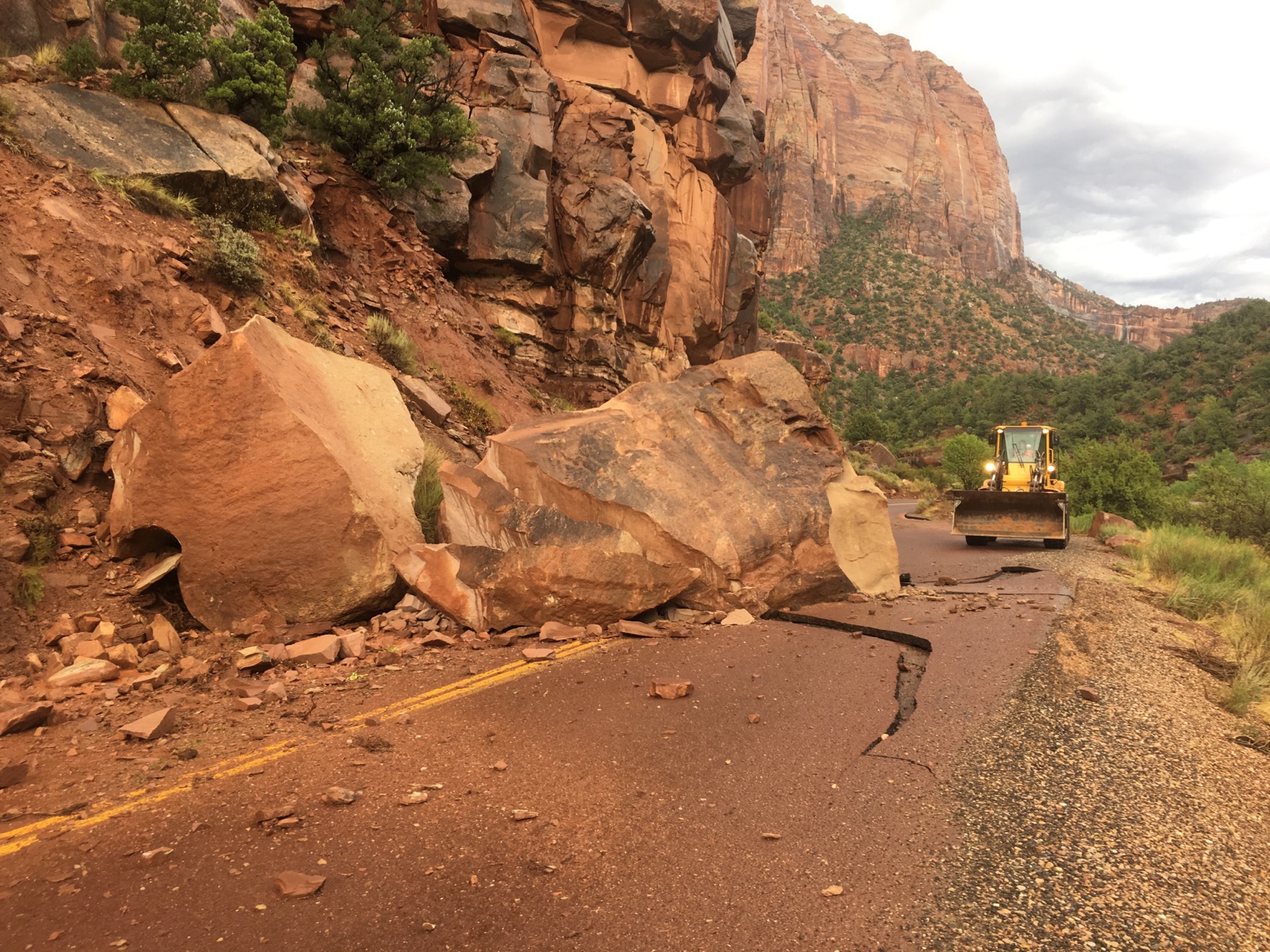 News Release Date:
August 10, 2016
Contact: Aly Baltrus
Springdale, UT- A major rock fall has closed the Zion- Mount Carmel Highway, State Route 9, in Zion National Park. Effective immediately, the Zion-Mount Carmel Highway, between Canyon Junction and the East Entrance is closed. A significant rock fall occurred on the switchback near the Pine Creek Bridge and is blocking both sides of the road. The park will be working with a hazard geologist from the Utah Geological Survey to remove the rock and assess the road. The road will reopen once it is deemed safe. The Scenic Drive and Zion Canyon remain open. The shuttle is running on a normal schedule.
At just before 1:00 p.m., the National Weather Service (NWS) alerted Zion National Park that a strong thunderstorm was entering Zion, bringing with it intense rain and hail. Shortly after, the NWS issued a flash flood warning and Zion closed all of its slot canyons, including The Narrows. At 2:10 p.m., flooding on the switchbacks below the tunnel and in several other places forced the park to stop traffic at each entrance station and halt the shuttle system in place. By 4:00 p.m., park maintenance had cleared the Scenic Drive and the Mount Carmel Highway from the Scenic Drive to the South Entrance. The switchbacks had not yet been fully cleared of debris from the flash flood when the large boulder came down.
Alternate east and west routes are available via Highway 59 from Hurricane, Utah to Fredonia, Arizona and Highway 14 from Cedar City, Utah to Long Valley Junction and Highway 89. People traveling to the park may access the park by traveling east on State Route 9 from Interstate 15. All park facilities including the visitor center, museum, campgrounds, and shuttle buses are open and operating as normal.
Traffic advisory signs will be placed near Mt. Carmel Junction, near Virgin, Utah, and near the park's South Entrance. Road condition updates will be provided on the park website and social media outlets. The park's short range radio broadcast systems at Mt. Carmel Junction, Hurricane, and both park entrances will also broadcast the status of the closure.
Learn about
Alternate Routes around Zion National Park
Last updated: September 6, 2021