Zion- Mount Carmel Highway Closed Due to Major Rock Fall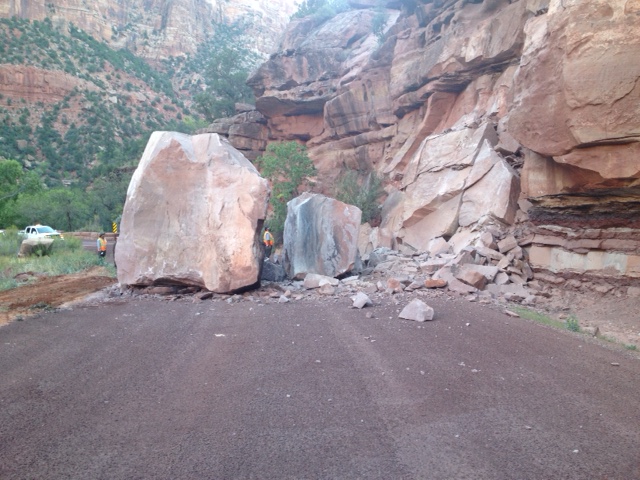 News Release Date:
September 23, 2015
Contact: Jin Prugsawan, 435-772-7612
Springdale, UT- A major rock fall has closed the Zion- Mount Carmel Highway, State Route 9, in Zion National Park as of early this morning. Effective immediately, the Zion-Mount Carmel Highway, between Canyon Junction and the East Entrance is closed. A significant rock fall occurred on the switchback near the Pine Creek Bridge and is blocking both sides of the road. Crews will have to blast the rock and use heavy machinery to clear it. Due to the rock fall, emergency response is not available on the east side of Zion. The Scenic Drive and Zion Canyon remains open.
Alternate east and west routes are available via Highway 59 from Hurricane, Utah to Fredonia, Arizona and Highway 14 from Cedar City, Utah to Long Valley Junction and Highway 89. People traveling to the park may access the park by traveling east on State Route 9 from Interstate 15. All park facilities including the visitor center, museum, campgrounds, and shuttle buses are open and operating as normal.
The park is expecting to reopen State Route 9 later this evening. Traffic advisory signs will be placed near Mt. Carmel Junction, near Virgin, Utah, and near the park's South Entrance. The park's short 1610 am radio broadcast systems at Mt. Carmel Junction, Hurricane, Utah, and both park entrances will also broadcast the status of the closure.
Map of Alternative Routes
Last updated: September 18, 2021