Zion National Park Seeks Public Comment on Proposed Kolob Terrace Road Rehabilitation Project
Date:
June 15, 2011
Contact:
Kezia Nielsen, 435-772-0211
Contact:
Marc Neidig, 435-772-0164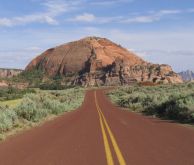 Zion National Park is seeking public input on the National Park Service's proposed plan to rehabilitate sections of the Kolob Terrace Road. The park is beginning an environmental assessment to evaluate the potential impacts from the proposed resurfacing, restoration, and rehabilitation of the 9.8 miles of the Kolob Terrace Road found within the park. The road provides access to high elevation areas of the park, as well as to private land. 

The proposed project would correct deficiencies in road conditions and related safety concerns. Deterioration in the current pavement has led to surface cracks, rutting, buckling, and unraveling of the pavement edge. Years of increased vehicle use, including heavy truck traffic from construction projects on private property, have resulted in an unacceptable and potentially unsafe road surface. The proposed project would begin as soon as funding is available, and is projected to take one year to complete. 

The public is invited to provide input on this proposed project until July 18, 2011. Feedback received during the scoping period will help identify and define the issues and concerns addressed in the environmental assessment. Comments can be submitted online by visiting https://parkplanning.nps.gov/zion or mailed to the address below.
       
Zion National Park     
Kolob Terrace Road Rehabilitation Project     
Springdale, UT 84767

Commenters should be aware that their entire comment – including personal identifying information – may be made publicly available at any time. While commenters may request that their personal identifying information be withheld from public review, the National Park Service cannot guarantee this will be possible.
Last updated: February 24, 2015