Upcoming Trail Closures on West Rim Trail
Date:
September 3, 2015
Contact:
Aly Baltrus, 435-772-0160
Springdale, UT- Zion National Park's trail crew will be working on two of the bridges along West Rim Trail from September 21 to October 15, 2015. Due to the locations of the bridges and the work needing to be done, portions of the West Rim Trail, including the section needed to reach Angels Landing, will be closed intermittently. These closures will affect both day hikers and those wishing to obtain Wilderness permits for canyoneering and overnight camping.
September 21-24 and September 28- October 1: Work will be located between Scout's Lookout and campsite 1 on the West Rim Trail. Trail users should expect up to 2-hour delays. This will not affect people hiking to Angels Landing from the Grotto Shuttle Stop. 
October 5-8 and 12-15: Work will take place on the bridge located halfway between the Grotto Trailhead and Scout's Lookout. The trail will need to be completely closed during those two weeks from the prior Sunday night at 11:00 p.m. to Thursday night at 5:30 p.m. This is the trail to Angels Landing from the Grotto Shuttle Stop. Those wishing to access canyons or campsites from the West Rim Trail will be required to do so from the Lava Point Trailhead. The trail will be open from Thursday, October 8 at 5:30 p.m. to Sunday, October 11 at 11:00 p.m. 
The West Rim Trail was completed in 1926. It connects the floor of Zion Canyon to the Kolob Terrace section of Zion National Park.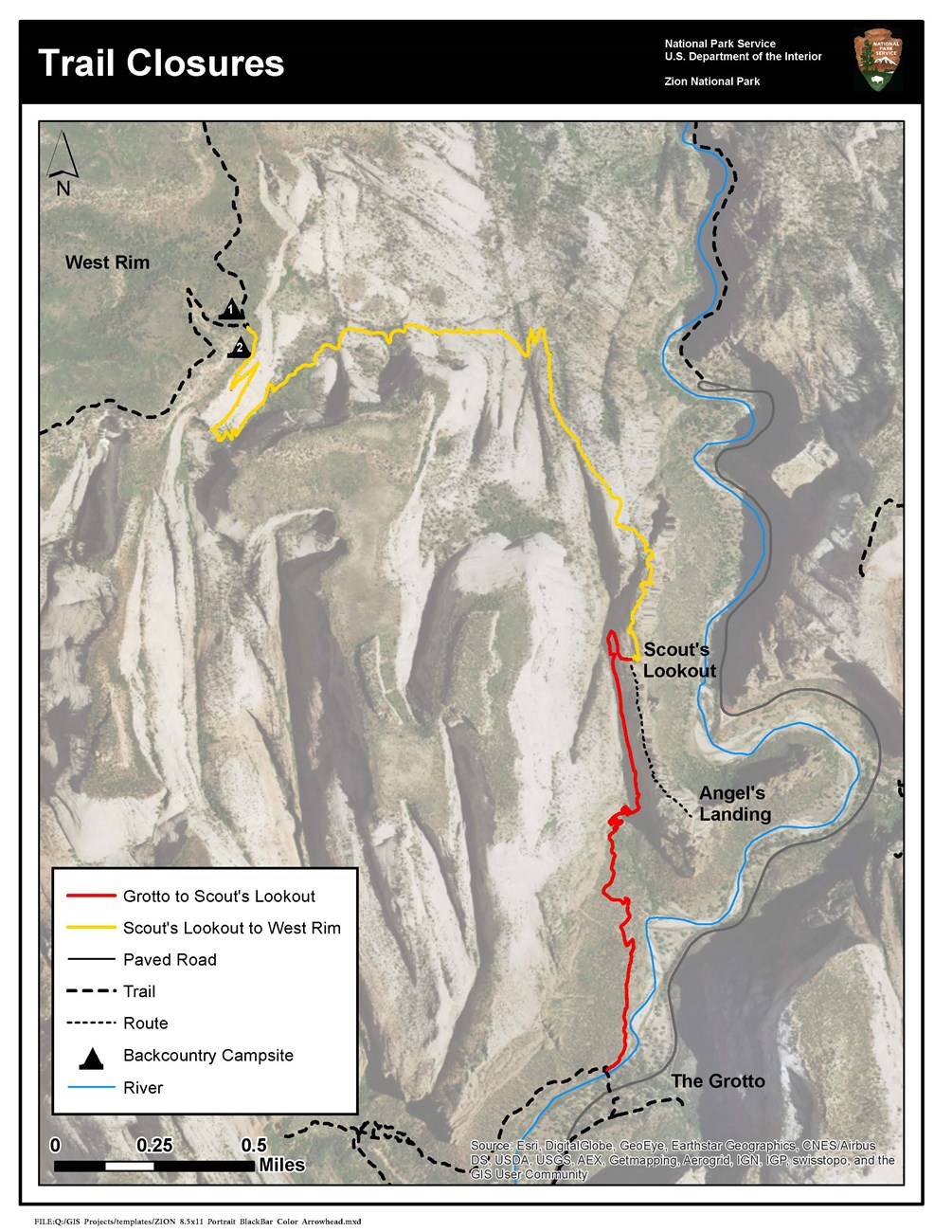 Last updated: March 3, 2019