Waste Removal Work to Briefly Close Scout Lookout, Angels Landing and the Zion Canyon Scenic Drive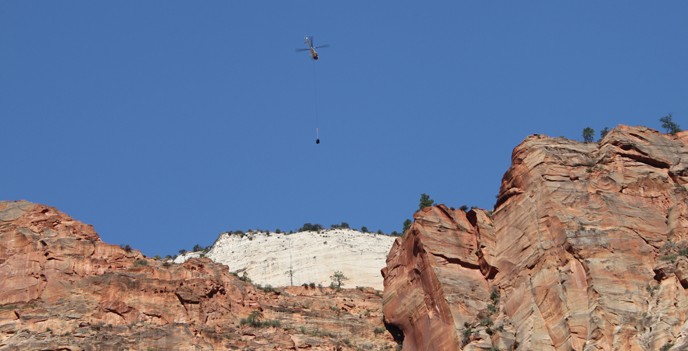 News Release Date:
February 19, 2014
Contact: Aly Balrus, 435-772-0160
Zion National Park will temporarily close access to Scout Lookout and Angels Landing between 8:00 a.m. and 1:00 p.m. on Thursday, February 20 and Monday, February 24, 2014 for a waste removal operation. Flaggers will be stationed on the Zion Canyon Scenic Drive between 10:00 a.m. and 12:00 p.m. for periodic closures. All traffic should expect delays.
Hikers expecting to do Scout Lookout and Angels Landing should plan an alternative activity during these times.

The waste removal from Scout Lookout is a regularly scheduled operation planned in preparation for the busy season ahead. Loading and hauling the waste away requires use of a helicopter. Due to the helicopter presence, greater safety precautions will be taken in the form of trail and road closures to protect visitors and staff. The helicopter will haul between 10 and 15 barrels each day. Each barrel will weigh approximately 500 pounds when full.

The work, fondly referred to by park staff as the helipoo operation, reveals a growing challenge to park management. Two evaporative toilets located at Scout Lookout were installed and designed to see use rates of 50 people per day. The toilets are now overused with use rates closer to 400 people per day. To help the park address this problem, visitors are asked use the restrooms located at the Grotto parking and shuttle stop area before they start hiking up to Scout Lookout.
Last updated: February 24, 2015