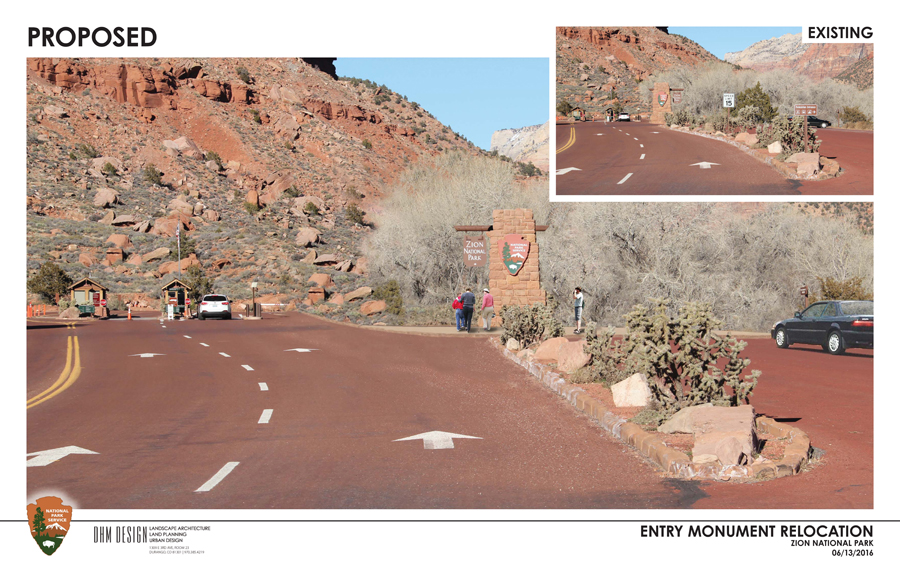 News Release Date:
April 17, 2017
Contact: John Marciano, (435) 772-7848
Contact: Shauna Ertolacci, (435) 772-0144
Zion National Park has released a draft of the South Entrance Monument Site Reconfiguration Environmental Assessment (EA) for public review. The alternatives portion of this plan describes a range of actions, such as redesigning the South Entrance Monument site and adjacent parking area. The South Entrance Monument Site would be redesigned to enhance visitor safety, expand cultural resource protection measures and help mitigate factors contributing to vehicle congestion experienced at the South Entrance.  
The public review and comment period begins 
April 17, 2017 
and goes through 
May 17, 2017

,
 to help identify any concerns or suggestions regarding the proposed project.  
The EA is available in electronic form on the NPS Planning, Environment & Public Comment (PEPC) website at 
https://parkplanning.nps.gov/
 and may also be located in print at the Zion Human History Museum. Comments may be submitted online through PEPC or through the mail by writing to:  
Superintendent, Zion National Park
ATTN: South Entrance Monument Reconfiguration EA
1 Zion Park Blvd.
State Route 9
Springdale, UT 84767